The Human Rights Subcommittee send Correspondence to VOICE about Human Rights issues in Vietnam
PRESS RELEASE: FOR IMMEDIATE RELEASE SCREENING: WHEN MOTHER'S AWAY
VOICE Presents Documentary on Imprisoned Vietnamese Blogger Mother Mushroom
Bangkok, 27 June 2018 – Noting the one-year anniversary of her first trial, VOICE reiterates its call for the Vietnamese government to immediately and unconditionally release citizen journalist, Nguyen Ngoc Nhu Quynh, popularly known as Mother Mushroom, with a screening of When Mother's Away, a moving portrait of Mother Mushroom and her family. Screening from 7:00PM at the FCCT.
When Mother's Away is a personal portrait that follows the life of Mother Mushroom's mother, Nguyen Thi Tuyet Lan, solely taking care of her two young grandchildren, while they struggle to continue on their lives and support Mother Mushroom, after she is sent to prison. In its depiction of an ordinary family facing an extraordinary circumstance, the film explores the themes of family and motherhood. Following the screening, VOICE will lead a panel discussion on the film and situation in Vietnam.
On 29 June 2017, Mother Mushroom, 38, was handed a ten-year prison sentence under Article 88 of Vietnam's Penal Code, often wielded against those whose only crime has been to speak out for human rights. A blogger, known for her writing about police brutality, freedom of expression, land confiscation, and the Formosa environmental disaster, Mother Mushroom was held in detention following her arrest in October 2016 until hours before her June trial. At her appeal, November 30, family and friends assembled outside the courthouse and were attacked by thugs.
Since February 2018, Mother Mushroom has been held in a remote prison over 1000 kilometers from her home. Family visits are difficult and expensive. At her last visit, Mother Mushroom's mother revealed her poor health. In May, Mother Mushroom underwent a 6-day hunger strike to protest against prison treatment. Her family's request to send her basic medicine and the Holy Bible was denied by the prison authorities.
VOICE reiterates its calls for the Vietnamese authorities to comply with their international human rights obligations, and to immediately and unconditionally release Mother Mushroom, and urges the international community to intervene at the highest possible levels to support her immediate release.
VOICE continues to stand by Mother Mushroom's call for all Vietnamese to continue fighting for their rights for a better and greater nation.
We each only have one life to live but if given the choice, I would still do it exactly the same… I hope everyone will soon raise their own voice and fight for their rights so that they can overcome their own fears, and build a better and greater nation – Mother Mushroom.
VOICE is a non-profit, non-governmental organization working in the field of promoting civil society development, advocacy for human rights, including refugee protection, and rule of law in Vietnam. Founded in 2007, VOICE's mission is to empower individuals in order to envision a strong, independent, and vibrant civil society.
2018 Recommendations for US – Vietnam Human Rights Dialogue
Context and Update
Vietnam implements a number of vaguely-worded and restrictive laws to punish individuals for exercising fundamental rights including:
a. Freedom of Religion
Since the new Government of Vietnam came into power in May 2016, at least 59 human rights defenders have been arrested and imprisoned, many of whom are Christian fighting for religious freedom. The authorities have instigated state-sponsored assaults against those who dare to speak up, especially Catholic villagers in Central Vietnam whose lives have been adversely affected by the Formosa environmental disaster.
'Hoi Co Do' (The Red Flag Groups) have been formed and sponsored by the authorities in many parts of Vietnam to incite violence and hatred against parishes critical of the government's policy concerning the Formosa incident. For example, on 17 December 2017, Parish Ke Gai of Diocese Vinh in Nghe An Province was attacked by hundreds of members of a Red Flag Group due to their activism in protecting the environment resulting in scores of parishioners being injured. See video clip below produced by the Redemptorist Church (with English subtitle):
This marks the first time a new tactic has been used by the authorities to set non-Catholics against Catholics. It is a deliberate state attempt to create tension and sow distrust between faith-based groups.
The independent Hoa Hao Buddhist Church has also suffered much throughout this past year. Buddhist ceremonies organized by the Church were shut down by the authorities and at least, fifteen (15) members of the Church were arrested last year. One of their leaders, Mr Vuong Van Tha, was sentenced to 12 years' imprisonment while his son was sentenced to 7 years on 23 January 2018.
Further, the authorities continue to harass and persecute religious leaders of unregistered religious groups by either demolishing their temple and confiscating the property (Lien Tri Temple in Saigon) or attempting to confiscate it (Thien An Monastery in Hue) or engineering direct attacks (including physical assaults) against many Protestant church leaders in the Highlands. Many of them are, to date, banned from traveling within and outside of Vietnam despite guarantees made in the new Law on Religion and Belief concerning freedom of religion and under Vietnam's own Constitution.
b. Freedom of Expression
Freedom of Expression continues to be severely restricted by Article 258 (343), 79 (109), and 88 (117) of the Penal Code despite the latest amendments in early 2018.
Article 258, also known as 'Abusing democratic freedoms to infringe upon the interests of the State, the legitimate rights and interests of organizations and/or citizens.' (now revised as Article 343 in Vietnam's Penal Code, which came into effect on 1 January 2018). Those who are convicted under this article face up to seven years' imprisonment. Article 258 has been used to prosecute a wide variety of people for allegedly 'abusing' their freedom of speech.
Article 88, also known as 'conducting propaganda against the Socialist Republic of Vietnam' (now revised as Article 117) has been widely used to imprison those who raise their voice in whatsoever forms to criticize the government and the Communist Party. The range of penalties is between three and twenty years imprisonment.
Article 79, also known as 'carrying out activities aimed at overthrowing the people's administration' (now revised as Article 109) is designed to prevent dissidents from organizing themselves to compete politically. This law can be used against anyone who peacefully organizes to oppose the party's dominance or its policies. Organizers, instigators and active participants can face between twelve years to life imprisonment or capital punishment, while other accomplices can face between five to fifteen years imprisonment.
c. Freedom of Assembly
The Law on Association has not been adopted though at least 16 draft bills had been brought before the National Assembly in the past decade. The delay indicates the constant vigilance and reluctance of the authorities in enacting a law they consider to be 'politically sensitive'. The latest bill itself, however, failed to be passed after many civil society organizations raised their concern about its repressiveness. Article 8, inter alia, bans every association from cooperating with foreign organizations or receiving foreign funds.
Association in the form of political organization or party is strictly banned. Members shall be charged with 'carrying out activities aimed at overthrowing the people's administration' and given lengthy prison terms, including life imprisonment or capital punishment under Article 79/109 of the Penal Code.
The Law on Demonstration was scheduled to be discussed and passed by the National Assembly in 2015, however, it was removed from the agenda in 2016, 2017 and 2018. The National Assembly itself does not plan on bringing the law back to the table for discussions, while at the same time, the Ministry of Public Security – the government agency responsible for drafting this law – keeps delaying the submission of the draft law.
Independent labour unions are banned. Strikes must be registered under harsh requirements, and labour activists are subject to continuous surveillance and harassment.
GONGOs (government-organized non-governmental organizations) are given space for their activities on the condition that they work to further the government's interests. While dozens of human rights activists are banned from traveling outside of the country, there have been many cases where GONGO staff enjoy the freedom to travel abroad and attend international conferences, in some cases, as police informers in disguise. Security officers are also said to put in a great deal of effort to cause splits between registered NGOs and independent ones. For example, human rights activists are often blocked from attending events held by registered NGOs.
d. Harassment of Human Rights Defenders (HRDs)
There are hundreds of bloggers (including Facebook users) and HRDs who frequently write about political and human rights issues in Vietnam. Since the most recent Party Congress early 2016, the Vietnamese government has arrested 59 activists, almost half of the total number of the current prisoners of conscience in detention. The fact that the arrested vary from human rights lawyers to anti-corruption students, from land-lost farmers to labor rights activists, from environmentalists to unregistered religious groups' followers proves that the government is systematically applying a zero tolerance policy towards dissent.
In addition, travel ban is one of the tactics used by the authorities to further isolate Vietnamese activists from the regional and international civil society communities. Statistically, over 100 human rights defenders, including bloggers, are banned from traveling outside and within Vietnam. Human rights defenders travelling abroad have had their passports confiscated by police upon their return to Vietnam and many of them are placed on a blacklist forbidding them to travel again. As a result, these activists lose their chance to meaningfully participate in regional and international forums to raise public awareness of Vietnam's human rights situation as well as to learn from fellow activists in the region.
RECOMMENDATIONS:
1. Follow Germany's lead by actively engaging with and calling on the authorities, particularly the Ministry of Public Security (MPS), to lift the travel ban against all HRDs, and refrain from imposing restrictions on their right to freedom of movement in the future.
2. Raise the cases of the following imprisoned human rights defenders and offer them asylum in the US even if some of them may not take up the offer:
• Tran Huynh Duy Thuc, ICT entrepreneur and blogger, sentenced to sixteen years under Article 79 in January 2010.
• Faith-based Bia Son group sentenced to ten to seventeen years (for followers) and life imprisonment (for the leader) under Article 79 in February 2012.
• Nguyen Huu Quoc Duy sentenced to three years for 'anti-state propaganda' postings on Facebook under Article 88.
• Nguyen Huu Vinh (aka Anh Ba Sam), blogger, sentenced to five years for blogging.
• Nguyen Van Dai and Le Thu Ha, sentenced to 15 years and 9 years imprisonment respectively after being found guilty under Article 79 on 5 April 2018.
• Nguyen Ngoc Nhu Quynh (aka Mother Mushroom), blogger, convicted under Article 88 on 29 June 2017 and sentenced to ten years' imprisonment leaving two young children behind without parental guidance and support.
• Hoang Duc Binh, environmental and labour rights activist, convicted of 'resisting officers in the performance of their official duties' under Article 257; and 'abusing democratic freedoms to infringe upon the interests of the State' under Article 258 and sentenced to 14 years imprisonment.
3. Call for the grant of access to visit prisoners of conscience and to do so periodically. This will send a strong message to the authorities that cases of concern are being monitored.
4. Call for the elimination and/or amendment of vaguely-worded articles in the Penal Code, such as Articles 258, 88, 79 and Article 19 – holding lawyers criminally responsible for not reporting clients to the authorities for a number of crimes.
5. The US Mission in Hanoi to organize seminars (such as one on the upcoming UPR of Vietnam in early 2019) and invite independent civil society organizations to participate. This will counter the authorities' policy in using all means to deny unregistered CSOs the physical space needed for their meetings and to encourage and legitimize their work.
6. Consider designating Vietnam as a Country of Particular Concern as the US Commission on International Religious Freedom (USCIRF) has recommended.
7. Use the Magnitsky Act as leverage for negotiation of the above.
VOICE holds Vietnam accountable to human rights agreements on mid-term campaign
VOICE delegation at the UN office in Geneva. From left to right: Anna Nguyen, Le Thi Minh Ha, and Dinh Thao. Source: VietnamUPR Facebook page
Haiy Le, October 9, 2017: When the human rights group, Vietnamese Overseas Initiative for Conscience Empowerment (VOICE), sent a delegation to the United Nations Human Rights Council in 2014, the delegation was made up of three men and all were citizens of Vietnam. This year, the trio is all female.
"We did not purposely want to have a female delegation," said Anna Nguyen, Director of Programs at VOICE. A more interesting point, she explained, are the different backgrounds — and continents — the three women come from. Anna is a lawyer born and raised in Australia. Joining her is Le Thi Minh Ha, the wife of blogger Nguyen Huu Vinh who was sentenced in March 2016 to five years in prison by the Vietnamese government for founding and operating a successful independent news blog. The third member is Dinh Thao, a Vietnamese citizen who left her career as a medical doctor to become an activist working out of VOICE's headquarters in the Philippines and is now stationed in Belgium as the European Union Program Coordinator.
As activists waging a long war against Vietnam's authoritarian government, they are unbothered by the comments littered on the VOICE Facebook page calling them "dogs" and "liars" who should "die." The group suspects the comments come from hacks paid by the Vietnamese government. In the spirit of free expression though, the malicious comments are free to stay. It's the opposite of what Hanoi is doing.
In 2017 alone, Vietnam's one-party Communist government has detained or sentenced 16 activists under the country's draconian penal code, and specifically Article 88, which makes it a crime to "propagate" against the government. Human Rights Watch has reported on the country's long history limiting freedom of expression, which has sent more than 100 activists to prisons. The country's repression has led to thousands of refugees seeking political freedoms and economic opportunities to live and work elsewhere under more democratic and transparent governance.
VOICE was founded in 1997 as a legal aid office in the Philippines to help stateless Vietnamese refugees resettle in countries, including Australia, the U.S. and Canada. Since then, the nonprofit's mission has branched out to include advocacy for human rights and the rule of law in Vietnam.
Anna's career has evolved somewhat similarly. She began her career as a refugee lawyer in Australia where for three years she worked with asylum seekers from Iran, Iraq, Afghanistan and Vietnam. "That's when I started to learn about the human rights situation in Vietnam. Instead of helping people leave the country, I wanted to explore why people were leaving in the first place. The war ended in 1975 but why are people still leaving?"
Since joining VOICE in 2014, Anna's work includes communicating with foreign governments and multilateral organizations, and persuading them to use their influence to put pressure on Vietnam. She also makes sure these foreign bodies hear from independent activists and civil society groups in Vietnam. "Many of these activists are banned from traveling and don't have a platform, so it's great that we can give them a voice," she said.
In 2014, a 23-member delegation from Hanoi met with the U.N. Human Rights Council for the Universal Periodic Review (UPR), a review process on the human rights records of all UN Member States. The Vietnamese government agreed to the implementation of some UPR recommendations and rejected others, notably the release of prisoners and the revision of vague national security laws that are used to suppress human rights.
The goals of this year's Mid-term UPR Advocacy Campaign are to follow up on the recommendations and to advocate for the prisoners, particularly Tran Huynh Duy Thuc, a technology entrepreneur and blogger who was sentenced to 16 years for "conducting activities aimed at overthrowing the people's administration" on January 2010; Nguyen Ngoc Nhu Quynh, better known by her pen name, Mother Mushroom, is a blogger convicted of "anti state propaganda" on June 2017 and sentenced to ten years' imprisonment; and Tran Thi Nga, a blogger sentenced to nine years' imprisonment on July 2017 for "anti state propaganda" in her sharing of articles and videos highlighting abuses tied to environmental crises and political corruption. In the past couple of months, there has been a rise in the number of female activists targeted by the government. Mother Mushroom wrote that she was motivated to create a better future for her two children.
The mid-term campaign, which runs from September 15 through October 10, has been in the planning stages since the last UPR. The delegation has organized a marathon of meetings with foreign bodies in Germany, Switzerland, Sweden, Norway, Belgium and the Czech Republic to give suggestions on how these groups can exert pressure on Hanoi.
In a recent case that has made headlines for its Cold War style of abductions, a Vietnamese asylum seeker was snatched off the streets of Berlin in broad daylight on August 24 — one day before his asylum hearing — and whisked back to Vietnam on corruption charges. In a meeting with Germany's Office of Foreign Affairs on September 15, VOICE raised concerns to Annette Knobloch, Deputy Head of Unit of South East Asia/Pacific.
"We made them a number of suggestions and then a few days after our meeting, it was announced in the news that Germany had expelled another diplomat," Anna said.
As Vietnam's biggest trading partner in the EU, Germany has influential leverage through its purse strings. There's also Germany's development aid to Vietnam, which in 2015 was $257 million distributed over two years.
On top of the meetings with Germany and other foreign governments, the delegates have communicated with UN Special Rapporteur on human rights defender, Michel Forst, and CIVICUS, a group working to strengthen civil society. VOICE's collaboration with CIVICUS, which has consultative status with the UN, gave VOICE the opportunity to present in front of the UN Human Rights Council on September 19.
"We call on the Vietnamese government to implement in good faith the UPR recommendations it accepted in 2014," Thao read in her statement. "We call on the UN Member States to urge Vietnam to free all prisoners of conscience."
Thao said the presentation alone has made the 25-day campaign a successful one for her, in spite of the stressful logistics, the back-to-back meetings and the harassment from the Vietnamese government that she, her colleagues and family in Vietnam have received due to her activism.
After the campaign ends, the delegates plan to follow up on the meetings and maintain the contacts they met. "It's really easy to meet people but if there's nothing done after that, there's no point in meeting them," Anna acknowledged. They will also start making plans for the 3rd UPR in January 2019, which will involve more people, workshops and a UN session dedicated to addressing Vietnam's human rights situation.
Being a human rights defender is like running in a marathon, Anna described. "You cannot expect to see the finish line straight away. It's hard and arduous, and you will need to eventually pass on the baton to your comrades and colleagues. But like all marathons, you will eventually see the finish line."
Haiy Le is a freelance journalist and previously worked at the San Francisco Chronicle and Newsela. She grew up listening to her father's stories from the the Vietnam War and became more interested in Vietnamese foreign affairs while studying International Relations and Communication at Stanford University. Follow her @HaiyLe
One Year After Arrest, Demand for Release of Vietnamese Human Rights Defender Me Nam – Civil Rights Defenders
Public Statement
On 10 October 2016, Vietnamese authorities arrested blogger Nguyen Ngoc Nhu Quynh, known by her pen name Me Nam (Mother Mushroom), on charges of spreading propaganda against the State. On 29 June, Me Nam was sentenced to 10 years in prison. Known since 2006 for her active social media advocacy against the Vietnamese government's rampant corruption, human rights abuses, and foreign policy, her arrest and later sentence should be seen as politically motivated. Civil Rights Defenders calls on the government of Vietnam to immediately and unconditionally release Nguyen Ngoc Nhu Quynh and to end its wider persecution of bloggers and journalists under Article 88 of the Penal Code.
On the morning of 10 October 2016, Nguyen Ngoc Nhu Quynh (Me Nam) was arrested while on her way to visit another rights defender in prison. Her arrest and ongoing detention should be seen as nothing more than persecution against her courageous defence of human rights.
Since 2006, Me Nam has been blogging about human rights abuses and corruption in Vietnam. In 2013, she co-founded the independent Vietnamese Bloggers Network, which is now blocked in Vietnam. She has investigated and published widely on environmental protection, public health, correctional reform and anti-torture efforts, and has been critical of Vietnam's foreign policy toward China over disputed islands in the South China Sea. Me Nam has posted information about over 30 people who have died in police custody and has been active both online and offline in documenting and demanding redress for the 2016 Formosa environmental disaster, when the Taiwanese-Vietnamese Formosa Ha Tinh Steel Corporation leaked toxic waste into the ocean having a devastating impact on tens of thousands of Vietnamese in four coastal provinces. Because of her tireless defence of human rights, Me Nam has been frequently targeted for harassment by the state, previously detained, interrogated, and beaten.
Following her arrest on 10 October 2016, Me Nam was held in incommunicado pre-trial detention until 20 June 2017, when she was first allowed to meet with one of her lawyers. The government also targeted her family in the month preceding her trial, the worst on 20 May 2017 when over 50 security officials surrounded the family's house.
On 29 June 2017, following a speedy trial that failed to meet international fair trial standards, the People's Court of Khanh Hoa province sentenced Me Nam to 10 years in prison under Article 88 of the Penal Code, for "conducting propaganda against the state." The outrageousness of the sentence is compounded by serious grounds for concern over her deteriorating health.
The International Covenant on Civil and Political Rights (ICCPR), to which Vietnam is a State Party, holds that anyone arrested or detained is entitled to a prompt trial without unreasonable delays and discourages pre-trial detention. Anyone who is arrested or detained is entitled to a lawyer of their choosing and to a court proceeding to decide without delay the lawfulness of their detention. The United Nations Human Rights Committee, which monitors the implementation of the ICCPR, holds that incommunicado detention denies the right to a fair trial, and raises the risks of torture. In April 2017, the United Nations Working Group on Arbitrary Detention found Me Nam's detention to be arbitrary and called for her release. Instead, Vietnam proceeded with its persecution of Me Nam under the Penal Code. In contravention of Vietnam's obligations under international law, Article 88 is often used to silence and imprison peaceful government critics and human rights defenders for exercising their right to the freedom of expression and opinion.
On the one-year anniversary of her arbitrary arrest and detention, Civil Rights Defenders urges the government of Vietnam to immediately and unconditionally release Me Nam, and to immediately end its wider persecution of bloggers and journalists under Article 88 of the Penal Code. As a prisoner of conscience, Me Nam has the right to remedy, including necessary medical attention, which Vietnam should ensure without conditions. Vietnam should amend or abolish those sections of the Penal Code that do not comply with its obligations under international law. Meanwhile, Vietnam's donors, trade partners, and especially those seeking to expand relations with Vietnam, should likewise pressure the government to release Me Nam and all others arbitrarily detained for the peaceful exercise of their right to free expression.
Download as pdf: Public Statement.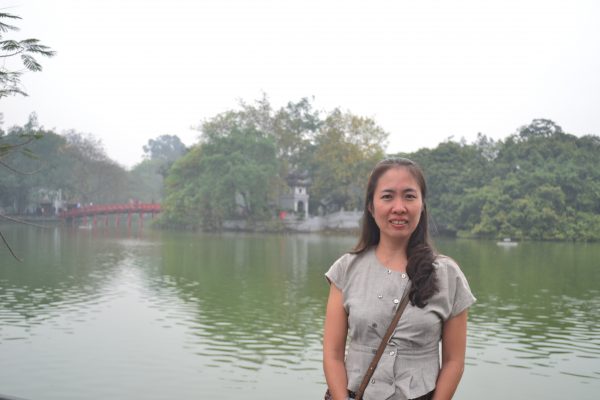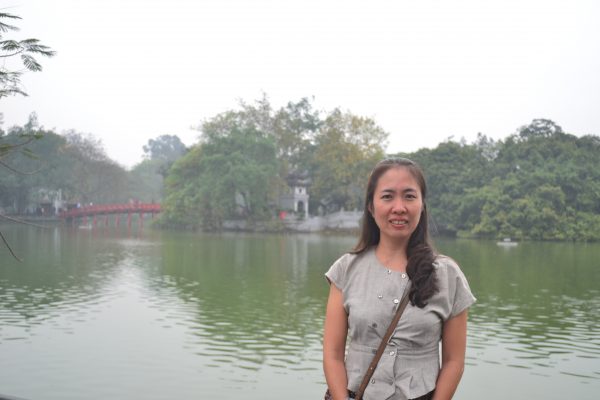 Source from: Civil Rights Defenders – One Year After Arrest, Demand for Release of Vietnamese Human Rights Defender Me Nam
Mùa hè không yên ả – Cuộc đàn áp người bất đồng chính kiến lớn nhất trong nhiều năm qua – The Guardian
At least 11 activists have been arrested, charged or convicted over the past few months, while another was stripped of his citizenship and deported to France
Ho Thi Chau, 25, was left alone and blacklisted after her husband was returned to jail for "attempting to overthrow the [Vietnamese] government" last week.
An activist from the north central province of Nghe An, Nguyen Van Oai was arrested on 18 September on charges of violating the conditions of his 2015 release from prison.
Oai, an anti-government dissident, is a citizen journalist and co-founder of the Association of Catholic Former Prisoners of Conscience.
Following his conviction, he will serve a five-year prison sentence plus four years of house arrest.
Chau, a former garment factory worker, does not know how to support their newborn daughter. As she is the wife of a man branded a "reactionary" by Vietnam's single party communist state, employers are reluctant to hire her.
"When we were preparing for our wedding I was sacked because of our engagement and they didn't hire me any more," she said.
Vietnam's summer has been particularly harsh for dissidents, with at least 11 having been arrested, charged or convicted, while another was stripped of his citizenship and deported to France.
Human Rights Watch has described it as an "all-out effort" to clamp down on criticism, while Amnesty International has expressed fears that imprisoned dissidents are being tortured. The US embassy and EU delegation in Hanoi have repeatedly expressed their alarm.
'I have my way of living in a difficult situation'
Those who remain out of prison ponder if they will be the next detained.
Mai Khoi, a former pop star who was banished from the Vietnamese music industry when she began expressing pro-democracy views in 2016, was surprised on 22 July when dozens of police arrived at her private show in Hanoi's Tay Ho district.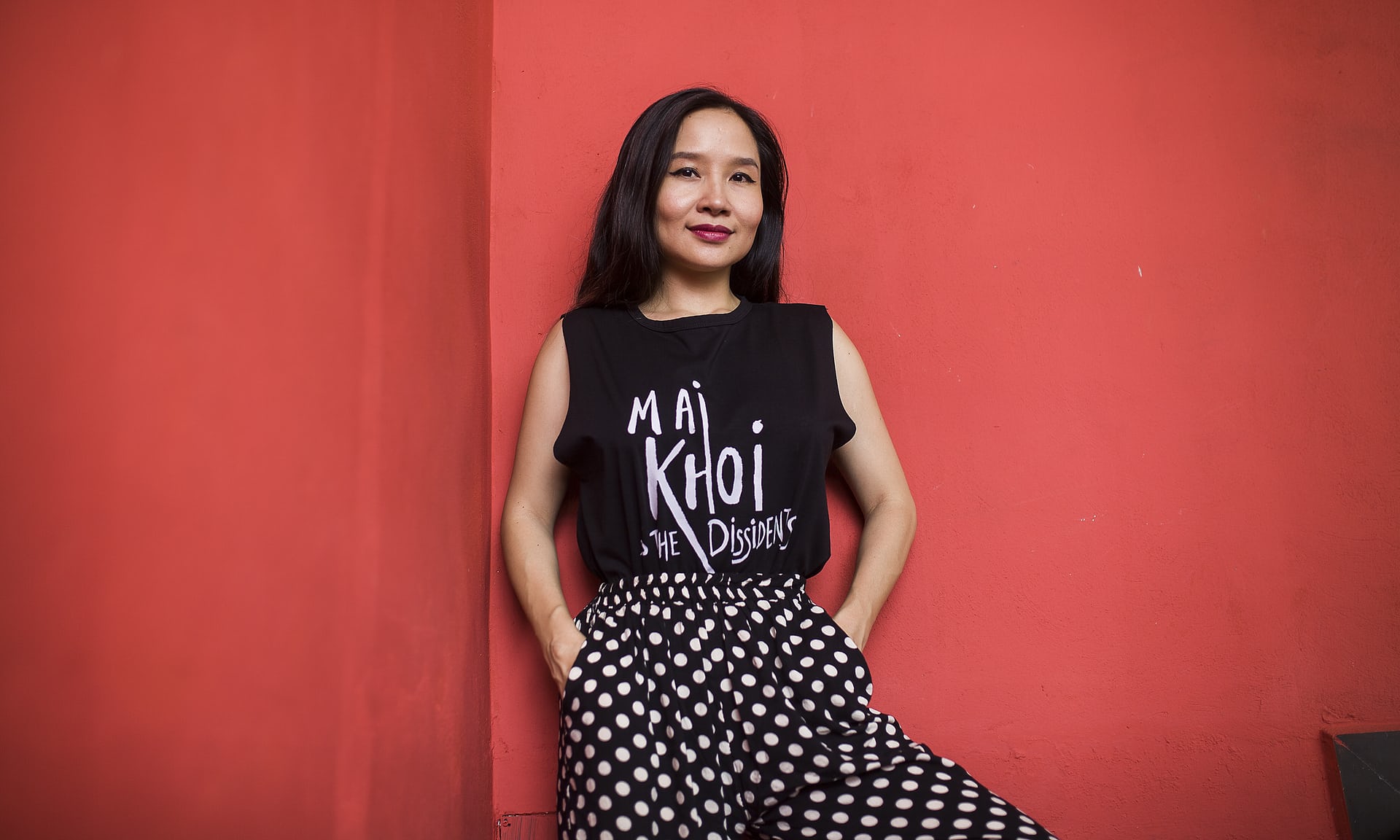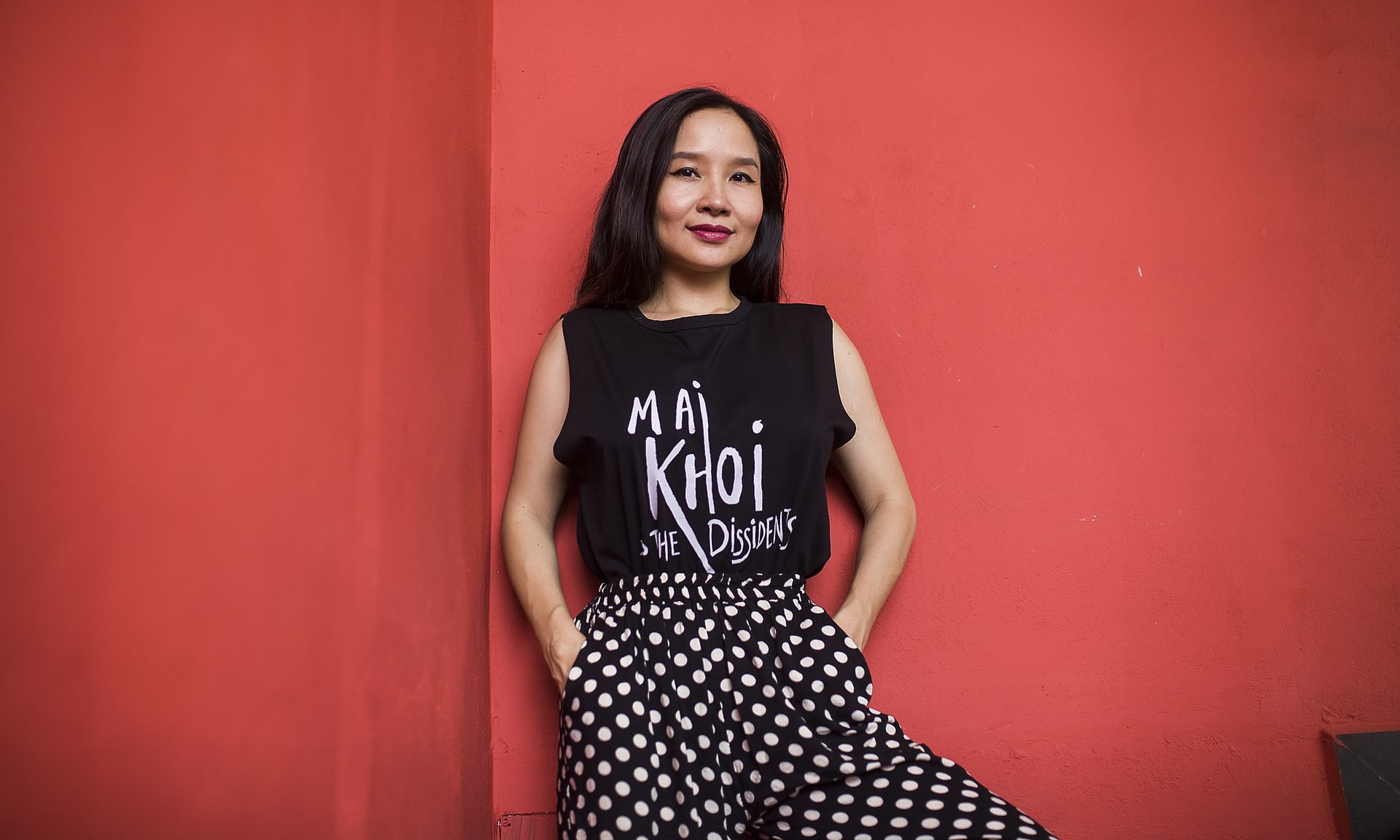 The authorities had a complaint: the studio hosting Khoi did not have a permit for the show and it must be stopped.
While no one was arrested, Khoi, whose band Mai Khoi and the Dissidents have lyrics peppered with criticisms of the government, was evicted the next day by her landlord, who told her he was breaking the lease due to police pressure.
Since the raid Khoi has been forced to stop playing her shows, which fuse traditional Vietnamese music with American-style blues.
She is now living in a secret location in Hanoi in a flat leased under a friend's name as she tries to work out her next move.
"It doesn't really scare me, because I have my way of living in a difficult situation," said Khoi.
"Ai Weiwei was in jail and he's still doing his thing," she added, referring to the Chinese visual artist turned dissident who spent 81 days in jail in 2011 for alleged economic crimes.
While Khoi remains free, members of the Brotherhood for Democracy, a loose association of anti-government activists that exists primarily in cyberspace, have born the brunt of the crackdown.
Nguyen Thi Kim Thanh said she was with her husband, Truong Minh Duc, when he was abruptly snatched off the street the morning of 30 July. He is accused of being a member of the Brotherhood, though his wife said she has no knowledge of his participation.
While driving to a pharmacy to buy heart medication, Duc, vice-president of the unregistered Free Viet Labour Federation – which advocates for workers' rights in the absence of independent unions in Vietnam – was pulled over along with Thanh.
He was thrown into a car and transported to Hanoi, where he is being detained on charges of attempting to overthrow the government. Thanh denies her husband is guilty, adding he merely criticised government policy.
"He was just helping workers who were experiencing unjust behaviour," she said, adding she worried that Duc, who has a history of heart attacks, won't survive his incarceration.
Three other activists who were arrested separately across the country on the same day also received the same charge along with human rights lawyer and Brotherhood for Democracy founder Nguyen Van Dai, who has been in prison since 2015 awaiting trial, and his colleague Le Thu Ha.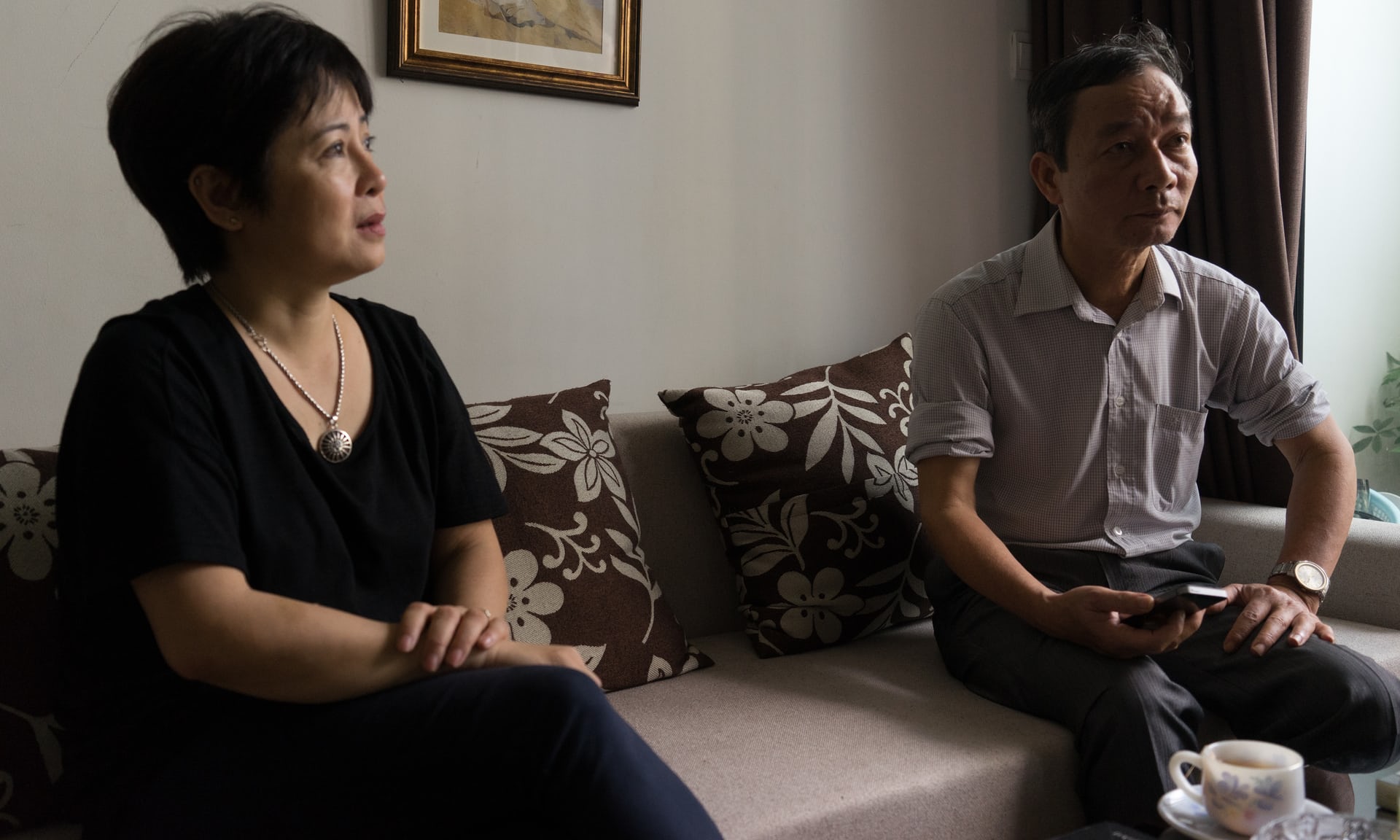 If found guilty they could face the death penalty.
"We prepare inside our minds for arrest, and talk to our family members, and I ask for advice from former prisoners of conscience about the life inside the prison," said Nguyen Tuong Thuy, the 65-year-old vice-chairman of the Independent Journalist Association and a Brotherhood member.
Nguyen Thuy Hanh, a 54-year-old member who works as a public relations manger for an Indian company, said most of the group's key functionaries were arrested in July.
"It's the biggest challenge we've had since the birth of the Brotherhood for Democracy in 2013 until now," she said.
While the Brotherhood for Democracy has no formal membership roll, it boasts almost 37,000 followers on Facebook. Causes represented by its members range from environmental activism to anti-China nationalism.
But while the Brotherhood has been hit the hardest by the crackdown, targets have included activists from across the spectrum of Vietnamese dissidence.
Some, such as Nguyen Ngoc Nhu Quynh, the activist also known as Mother Mushroom who was sentenced to 10 years' imprisonment in June, were prominent bloggers, while others, including Oai, were members of the Viet Tan, a banned self-described political party based in California.
Khoi, who avoids formal associations and public concerts, said the police will have a hard time building a legal case against her.
She added, however, that it would not take much for her to be imprisoned.
"If I want to be in jail for two days or three days, I'd just go into the street and sing my songs," she said.
Source from:  The Guardian: Vietnam's harsh summer: state launches largest crackdown on dissidents in years
VOICE Representative's speech at the UN Human Rights Council
Let's listen to our statement before the United Nations' Human Rights Council today, delivered by Đinh Thảo, one of our delegates, a staff of VOICE.
We are proud to bring voices of conscience from #Vietnam to the international community's attention.
19 September 2017
36th Session of the UN Human Rights Council
Thank you, Mr. Vice President,
We are gravely concerned by the crackdown on human rights defenders in Vietnam. Despite its international treaty obligations and recommendations accepted at the UPR to respect freedom of expression and civil society space, the Government of Vietnam is doing the exact opposite.
In the first eight months of this year, at least 16 activists have been detained, arrested or sentenced under the country's draconian Penal Code, including 6 members of the group, Brotherhood for Democracy, who could face the maximum sentence of death for their peaceful human rights work. Two female activists, Nguyen Ngoc Nhu Quynh and Tran Thi Nga, have been sentenced to 10 and 9 years in prison, for peacefully criticizing the government and have been subjected to dire prison conditions. I am also here with Ms. Le Thi Minh Ha, wife of Anh Ba Sam – Nguyen Huu Vinh who was sentenced to 5 years for simply blogging against the Government.
There are, in fact, hundreds of prisoners of conscience in Vietnam right now, yet Vietnam fails to acknowledge their existence.
Mr. Vice President, we call on the Vietnamese government to implement in good faith the UPR recommendations it accepted in 2014 as well as those made by Special Procedures and Treaty Bodies. We call on the UN Member States to urge Vietnam to free all prisoners of conscience.
CIVICUS presents this statement together with VOICE.
Thank you, Mr. Vice President.
#VietnamUPR #HRC36
Amnesty International: Missing Human Rights Defender At Risk Of Torture: Nguyễn Bắc Truyển
URGENT ACTION
Former prisoner of conscience, Nguyễn Bắc Truyển was last seen on 30 July 2017 after dropping off his wife outside her place of work in Ho Chi Minh City, Viet Nam. Although State media reported that he was arrested by authorities, more than three weeks later his wife has received no official confirmation from police as to the accusations against him or his place of detention. He is at risk of torture or other ill-treatment and has preexisting medical conditions that require treatment.
The whereabouts of Nguyễn Bắc Truyển remain unknown since he was forcibly disappeared on 30 July 2017. According to State media reports, he was arrested for "carrying out activities aimed at overthrowing the People's Administration" under Article 79 of the 1999 Penal Code. The offence, which falls under the vaguely worded "national security" section of the Penal Code, provides for a sentence of up to life imprisonment or capital punishment. On the same day that Nguyễn Bắc Truyển was forcibly disappeared, three other activists were formally arrested in the presence of one or more family members. The families of those activists have since been informed either verbally or in writing that the men are being held at
On the same day that Nguyễn Bắc Truyển was forcibly disappeared, three other activists were formally arrested in the presence of one or more family members. The families of those activists have since been informed either verbally or in writing that the men are being held at B14 prison in Ha Noi. Despite requesting information from police, the family of Nguyễn Bắc Truyển have received no similar confirmation as to his whereabouts and they fear for his safety. Nguyễn Bắc Truyển suffers from heart and bowel conditions that could deteriorate if he does not have access to the medication he requires.
A former prisoner of conscience, Nguyễn Bắc Truyển is a follower of Hòa Hảo Buddhism, a minority religious tradition centred primarily in the south of Viet Nam. He was arrested in 2006 and imprisoned for three and a half years after being convicted of "conducting propaganda" against the State for providing legal advice to land grab victims. On 24 February 2014, Nguyễn Bắc Truyển and his wife were pulled from a taxi in Ha Noi by men in plain clothes and severely beaten while on the way to the Australian embassy to discuss the harassment they had faced from police in Đồng Tháp province in the lead up to their wedding. His wife has recalled four other specific incidents in 2015 and 2016 when one or both of them were beaten or attacked by men in plain clothes.
Please write immediately in Vietnamese, English, or your own language urging Vietnamese authorities to:
+ Immediately disclose the whereabouts of Nguyễn Bắc Truyển;
+ Release Nguyễn Bắc Truyển immediately and unconditionally if he is in State custody, as it appears he has been deprived of his liberty solely for peacefully exercising his rights to freedom of expression and association;
+ Pending his release, ensure that Nguyễn Bắc Truyển is protected from torture and other ill-treatment and is allowed access to his family, a lawyer of his choice, and adequate medical care.
PLEASE SEND APPEALS BEFORE 3 OCTOBER 2017 TO:
Prime Minister
Nguyễn Xuân Phúc
Prime Minister's Office
Hà Nội, Việt Nam
Email:
nguoiphatngonchinhphu@chinhphu.vn
Salutation: Your Excellency
Minister of Public Security
To Lam
44 Yết Kiêu St. Hoàn Kiếm District Hà
Nội, Việt Nam
Fax: + 844 3823 1872
c/o Ministry of Foreign Affairs
Email: ttll.mfa@mofa.gov.vn
Salutation: Dear Minister
And copies to: Minister of Foreign Affairs and Deputy Prime Minister
Phạm Bình Minh
Ministry of Foreign Affairs
1 Ton That Dam Street, Ba Dinh district
Hà Nội, Việt Nam
Fax: + 844 3823 1872
Also send copies to diplomatic representatives accredited to your country. Please insert local diplomatic addresses below:
Name Address 1 Address 2 Address 3 Fax Fax number Email Email address Salutation Salutation
ADDITIONAL INFORMATION
Before his arrest, Nguyễn Bắc Truyển was working for a Christian church in Ho Chi Minh City, contributing to a charitable program that supports war veterans. He has monitored and reported on the harassment of religious minorities in Viet Nam and in 2014 he met with the UN Special Rapporteur on freedom of religion or belief during a country visit to Viet Nam. He has also provided legal advice to victims of land grabs and police harassment, and helped to facilitate charitable support to the families of prisoners of conscience.
The three other activists that were arrested the same day as Nguyễn Bắc Truyển are Phạm Văn Trội, 45, from Ha Noi; Trương Minh Đức, 57, from Ho Chi Minh City; and Nguyễn Trung Tôn, 45, from Thanh Hoa province. Each of them has previously been imprisoned for their peaceful activities (see https://www.amnesty.org/en/documents/asa41/6855/2017/en/). A fifth individual, Nguyen Trung Truc, was arrested on 4 August 2017. According to State media, all five men are alleged to have connections to human rights lawyer Nguyễn Văn Đài who was himself arrested in Ha Noi on 16 December 2015 and, along with his colleague Le Thu Ha, is also accused of committing an offence under Article 79 of the Penal Code (see ASA 41/3098/2015 ).
Although Hòa Hảo Buddhism is an officially recognized religion in Viet Nam, historically there has been tension between its adherents and the Communist Party of Viet Nam. Individuals and families who choose to practice the religion independently of State-sanctioned religious authorities often face harassment from authorities.
Nguyễn Bắc Truyển is a former prisoner of conscience. He was arrested in November 2006 and imprisoned for three and a half years after being convicted of "conducting propaganda" against the State. According to his wife, Bui Thi Kim Phuong, he was accused of giving incorrect information to victims of land grabs, thereby turning them against the government. Nguyễn Bắc Truyển was released from prison in May 2010 but was briefly detained again on 9 February 2014 when police raided the home of Bui Thi Kim Phuong, his fiancée at the time, in Đồng Tháp province days before their planned wedding. He was accused of stealing money and property but was released after twenty-four hours. The accusations and investigation were later dropped due to lack of evidence, however uniformed and plain-clothed police continued to threaten and harass the couple and their family for the rest of the month, including by following them, throwing waste at the house and allegedly cutting the water supply.
Viet Nam is in the midst of a sustained crackdown on human rights which has resulted in the arbitrary detention of at least fifteen activists and government critics since January 2017. Prisoners of conscience are routinely held for long periods of pretrial, incommunicado detention. Incommunicado detention can facilitate torture and other cruel, inhuman or degrading treatment and when prolonged can itself amount to such practices. In addition, the right to promptly communicate with a lawyer and prepare a defence, an essential part of the right to a fair trial, is denied. Both the prohibition against torture and other illtreatment and the right to a fair trial are provided in treaties that Viet Nam, as a state party, is legally obliged to abide by, including the International Covenant on Civil and Political Rights (ICCPR) and the United Nations Convention against Torture and Other Cruel, Inhuman or Degrading Treatment or Punishment.
Prison conditions in Viet Nam are harsh, with inadequate food and health care, falling far short of the minimum requirements set out in the UN Standard Minimum Rules for the Treatment of Prisoners (Nelson Mandela Rules) and other international standards. Prisoners of conscience have been held in solitary confinement as a punishment for prolonged periods. For more information see the Amnesty International report, issued in July 2016: "Prisons Within Prisons: Torture and Ill-treatment of Prisoners of Conscience in Viet Nam", https://www.amnesty.org/en/documents/asa41/4187/2016/en/.
Name: Nguyễn Bắc Truyển
Gender: male
UA: 197/17 Index: ASA 41/6964/2017 Issue Date: 22 August 2017