Official statements about Bach Hong Quyen's case
On May 2, 2019, Mr. Bach Hong Quyen, a Vietnamese refugee activist in Thailand, and his youngest son, Joseph Bach (6 months old), boarded a flight from Bangkok to Canada for resettlement under Canada's private sponsorship program.
Below are statements of people who have helped Mr. Bach Hong Queen on his journey to freedom.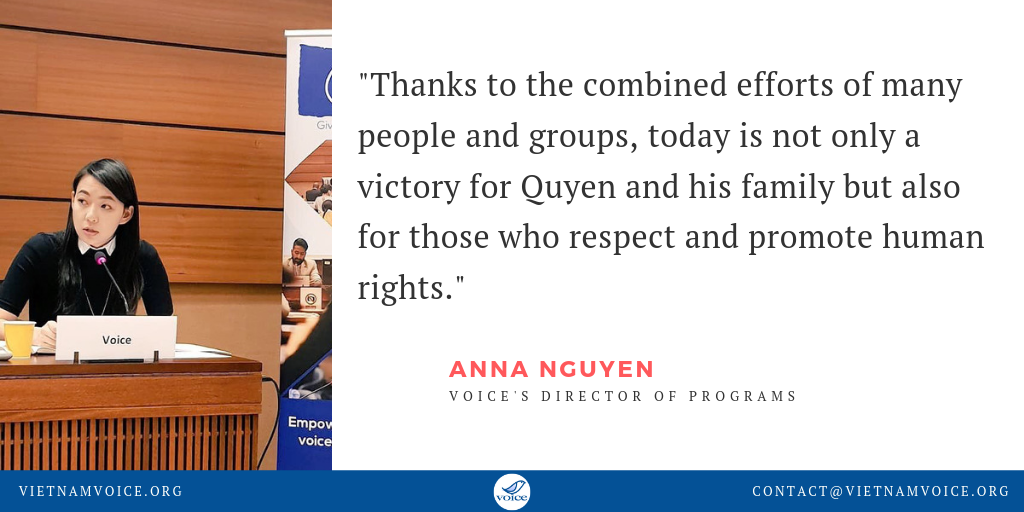 Anna Nguyen, VOICE's Director of Programs:
"Thanks to the combined efforts of many people and groups, today is not only a victory for Quyen and his family but also for those who respect and promote human rights."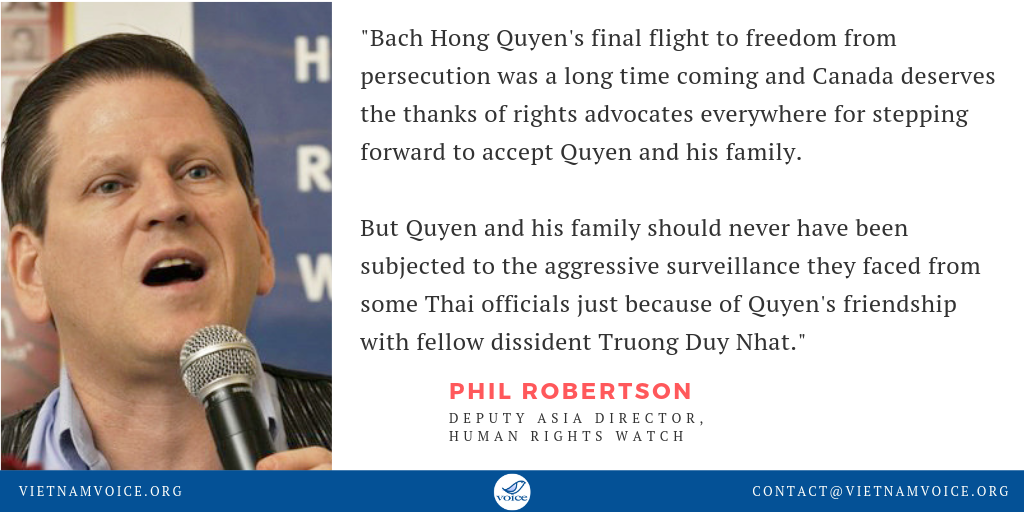 VOICE is grateful to Phil Robertson, deputy director of Human Rights Watch's Asia division for his advocacy efforts to help Bach Hong Quyen's family be resettled in Canada.
Below is a statement by Phil Robertson about the case of Bach Hong Quyen:
"Bach Hong Quyen's final flight to freedom from persecution was a long time coming and Canada deserves the thanks of rights advocates everywhere for stepping forward to accept Quyen and his family.
But Quyen and his family should never have been subjected to the aggressive surveillance they faced from some Thai officials just because of Quyen's friendship with fellow dissident Truong Duy Nhat."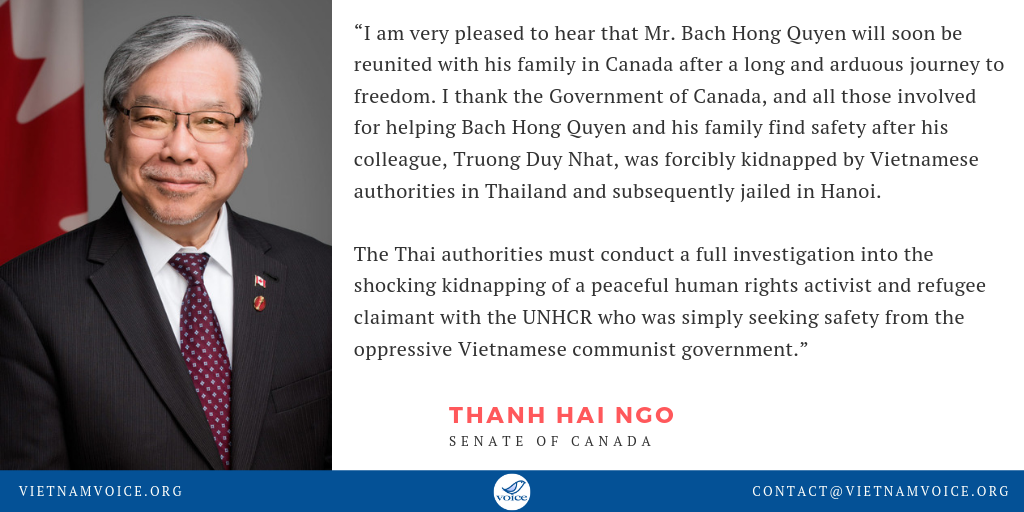 VOICE is grateful to Canadian Senator Ngo Thanh Hai for his advocacy efforts to help Bach Hong Quyen's family be resettled in Canada.
Below is a statement by Senator Ngo Thanh Hai about the case of Bach Hong Quyen:
"I am very pleased to hear that Mr. Bach Hong Quyen will soon be reunited with his family in Canada after a long and arduous journey to freedom. I thank the Government of Canada, and all those involved for helping Bach Hong Quyen and his family find safety after his colleague, Truong Duy Nhat, was forcibly kidnapped by Vietnamese authorities in Thailand and subsequently jailed in Hanoi.
The Thai authorities must conduct a full investigation into the shocking kidnapping of a peaceful human rights activist and refugee claimant with the UNHCR who was simply seeking safety from the oppressive Vietnamese communist government."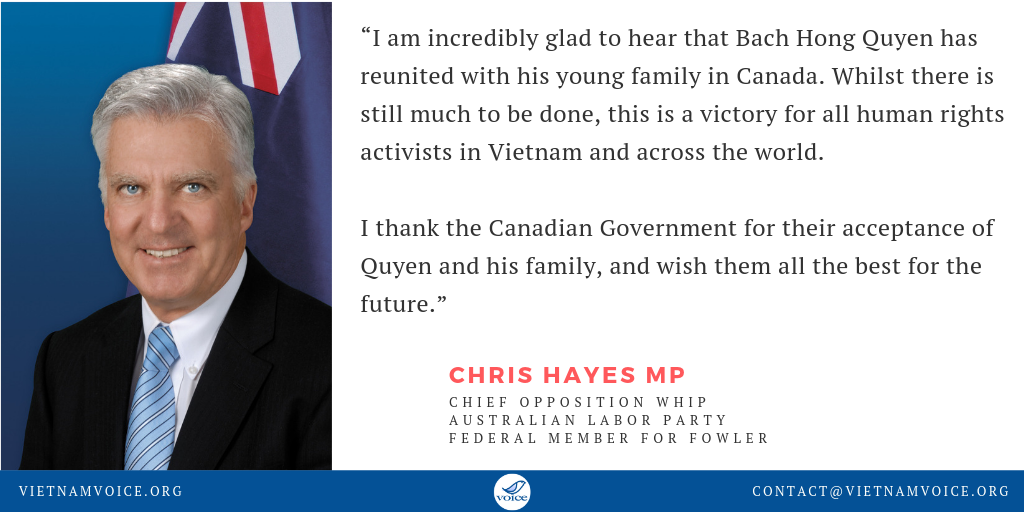 A statement by Chris Hayes, Chief Opposition Whip, Australian Labor Party, Federal Member for Fowler about the case of Bach Hong Quyen:
"I am incredibly glad to hear that Bach Hong Quyen has reunited with his young family in Canada. Whilst there is still much to be done, this is a victory for all human rights activists in Vietnam and across the world.
I thank the Canadian Government for their acceptance of Quyen and his family, and wish them all the best for the future."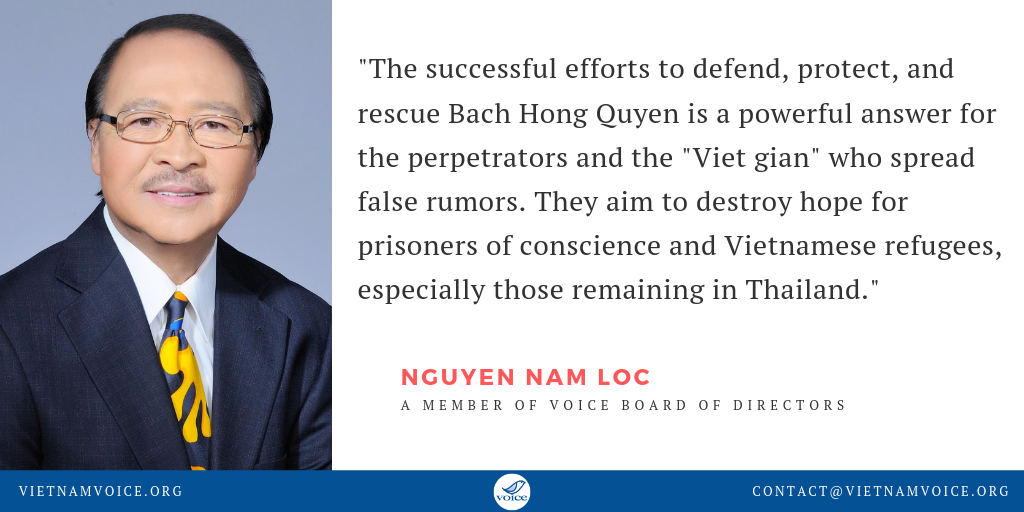 A statement by Nguyen Nam Loc, a member of VOICE Board of Directors about the case of Bach Hong Quyen:
"Due to his environmental activism, Bach Hong Quyen was harassed in Vietnam and escaped to Thailand. Still, he faced the risk of being "kidnapped" to Vietnam like the case of Truong Duy Nhat and Trinh Xuan Thanh. The successful efforts to defend, protect, and rescue Bach Hong Quyen is a powerful answer for the perpetrators and the "Viet gian" (*) who spread false rumors. They aim to destroy hope for prisoners of conscience and Vietnamese refugees, especially those remaining in Thailand.
Nevertheless, the swift advocacy campaign by VOICE and VOICE Canada to help resettle Bach Hong Quyen's family shows the solidarity and ambition of the Vietnamese community in Canada in particular and the overseas Vietnamese community in general, who band together to work alongside international organizations and nation states in support of freedom."
(*) "Viet gian" are those who have betrayed the Vietnamese people.