VOICE #GivingTuesday Story
Our story for #GivingTuesday 2018
Our goal for 2018 is to raise $650,000 to resettle 50 stateless Vietnamese refugees living in Thailand.
Some has been living there for more than 20 years, undocumented. Some has been hunted by Communist Vietnam.
Ho Thi Bich Khuong, a civil rights activist, fled to Bangkok in 2016. Her husband was "found dead", she herself was arrested 3 times and served a total of 7 years in prison. Upon her release, police confiscated her house and shop, and barred her friends from giving her shelter. Her family was on the "attack-on-sight" list, her son almost died from a hit-and-run accident. Vietnam police made her life as unbearable as can be.
Her two children deserve a better life in Canada, so do 11 other families we are helping. They need your help, too.
The totally cost will be 650,000. $500,000 for income support (mandatory from Canadian government), and $150,000 for fees and paperwork.
We've held 14 fundraisers this year and raised over $250,000. That donation money came from the goodwill of thousands of Vietnamese and non-Vietnamese around the world. Unfortunately, it is only enough for 30 refugees. What will happen to the fate of the other 20? Who will go and who will stay? The answer is in your helping hands.
Help us achieve this goal. Help us bring them to Canada.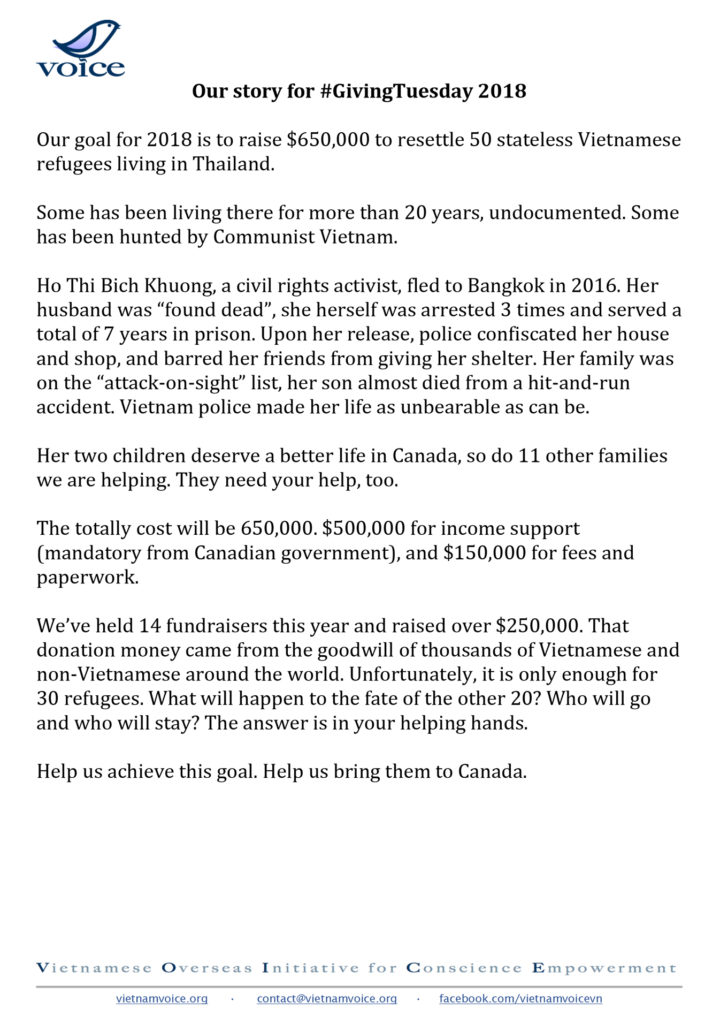 * Some pictures of Vietnamese refugees in Thailand: