The New York Times: With Social Media, Vietnam's Dissidents Grow Bolder Despite Crackdown
HANOI, Vietnam — A prominent blogger and environmental activist in Vietnam was sentenced last week to 10 years in prison on charges of national security offenses, including sharing anti-state propaganda on social media.
Nguyen Ngoc Nhu Quynh, better known by her online handle Mother Mushroom, had been held incommunicado since she was arrested in October, and attendance at her trial was strictly controlled.
But barely one hour after the verdict was handed down on Thursday, one of Ms. Quynh's lawyers summarized his arguments and posted her final statement at the trial to his 61,000 Facebook followers.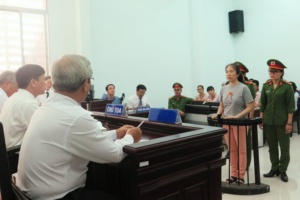 "I hope that everyone will speak up and fight, overcome their own fears to build a better country," she said, according to the lawyer. The statement was reposted thousands of times.
In authoritarian Vietnam, the internet has become the de facto forum for the country's growing number of dissenting voices. Facebook connections in particular have mobilized opposition to government policies; they played a key role in mass protests against the state's handling of an environmental disaster last year. Now, the government is tightening its grip on the internet, arresting and threatening bloggers, and pressing Facebook and YouTube to censor what appears on their sites.
"Facebook is being used as an organizing tool, as a self-publishing platform, as a monitoring device for people when they are being detained and when they get released," said Phil Robertson, deputy Asia director for Human Rights Watch.
Facebook is being used "to connect communities that otherwise wouldn't be connected," he said.
Nguyen Anh Tuan, 27, a pro-democracy activist, said the growing number of dissidents forging connections through social media had emboldened him.
The first time the police interrogated him in 2011, he said, he felt utterly alone. His parents and friends disapproved of his political writings, and he knew few other people he could turn to for help.
Mr. Tuan still faces police harassment and his passport has been confiscated. But the most recent time he was called in for questioning, he posted a copy of the summons to Facebook, along with a satirical note demanding to be paid for the time he spent in custody.
His note went viral, and other people followed suit, posting their own police summonses on Facebook and asking for compensation. "Regarding activism, I cannot feel lonely anymore," he said.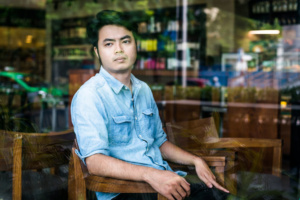 Vietnam's Facebook users — who now number 45 million, almost half the country's population — use the site to organize prison visits and vigils outside police stations for detainees, and to solicit donations for political prisoners. And dissidents are increasingly migrating political and personal blogs, which can be easily blocked by the government, onto Facebook, which is so widely used that blocking it entirely would not be feasible.
Mr. Tuan helps run a fund that supports the families of prisoners of conscience, including Ms. Quynh's mother and two young children. He said that much of the support now came from people inside the country sending money from their personal bank accounts, which the state can trace. In the past, he said, overseas Vietnamese communities drove most of the dissent and supplied most of the money.
"They know very well that they could be checked by the government, but they dare to do it," he said of his local donors.
That has not gone unnoticed by the government, which is also asserting its authority in new ways. Ms. Quynh is one of over 100 bloggers and activists jailed in Vietnam, according to Human Rights Watch. Pham Minh Hoang, another popular blogger, was stripped of his citizenship and deported last week to France, where he also holds citizenship.
The government has strategically cut access to Facebook when protests are expected, and earlier this year asked both Facebook and YouTube to help it eliminate fake accounts and other "toxic" content, like anti-government material, saying it had identified up to 8,000 YouTube videos that fit that description, according to the local newspaper Tuoi Tre. The government also warned Vietnamese companies that their ads must not appear next to that sort of content.
Facebook has said its policy is to abide by local laws, although there was no indication it had removed content in Vietnam thus far.
Nguyen Quang A, a retired computer scientist and former Communist party member who is now a dissident, said he felt the human rights situation was as bad as ever.
Last week, shortly before a planned interview, he was picked up by police near his house and taken for a five-and-a-half-hour drive to the seaside and back. He said he had been similarly detained 11 other times in the past year and a half.
He suggested the government was under increasing pressure from citizens frustrated by its handling of recent environmental and land issues. When a chemical spill at the Formosa Steel company killed tons of fish last year, outrage coalesced online, where protests were organized, photographs of the disaster spread rapidly and the hashtag #Ichoosefish became a rallying cry.
"I guess that they are too afraid," Mr. Quang A said. "They see the situation is too dangerous for them, and they see peaceful activists as a very dangerous enemy."
In a report released last month, Human Rights Watch detailed what it called a "disturbing trend" of bloggers and activists being beaten on the street by thugs known as "con do." It tallied 36 such attacks from January 2015 to this April, only one of which the police investigated.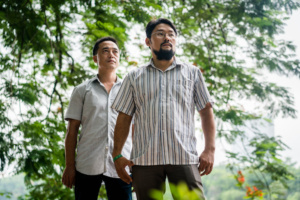 The report relies partly on the activists' own photos and videos of their injuries, often filmed shakily on smartphones and quickly shared online.
Jonathan London, a Vietnam specialist at Leiden University in the Netherlands, said that despite recent repression, the transformation wrought by the internet in a short period had been "astonishing and hopeful."
It is "remarkable that in a country that as recently as 15 or 20 years ago had one of the lowest rates of telephone usage in the world has thrust rapidly into an era of 24-hour news and continuous social and political criticism accessible to everyone," he said.
Pham Anh Cuong, 45, an electrical engineer, was not outspoken about politics until two years ago, when an activist he followed online, Nguyen Chi Tuyen, 43, was severely beaten by five men. Mr. Cuong saw photographs of Mr. Tuyen's bloody face and was alarmed by the brutality of the attack.
Today, he considers himself "one who raises my voice," if not fully a dissident. His goal is to share information with family and friends, rather than depend on the mainstream news media, which is nearly all state-owned.
"The very first time I wrote on Facebook, nobody even 'liked' it — they were scared of pressing the like button," he said. "Now people are starting to like and they are starting to share as well."
Offline, he now considers Mr. Tuyen and other dissidents friends, and several of them play together on a soccer team, the No-U FC. ("No-U" refers to a U-shaped line marking China's bold territorial claims in the South China Sea, an issue that galvanized many Vietnamese dissidents several years ago.) A Facebook page meticulously tracks the team's wins and losses, as well as its members' frequent run-ins with the security police.
In a cafe in Hanoi last week, the two friends simultaneously chatted, chain-smoked and checked Facebook. They noticed a state media story criticizing Mother Mushroom for receiving a cash prize from a human rights group in Stockholm. Mr. Tuyen immediately tagged a Swedish diplomat to alert her to the piece and asked the rights group for comment.
The two began scrolling again.
"Here's news from one of my friends, a doctor in Saigon, who just heard the news that Mother Mushroom is in debt," Mr. Tuyen said.
"The doctor in Saigon raised his voice that we should contribute to give money to her family," he said.
He typed for a moment, then looked up again.
"I just commented, 'I will join.'"
By JULIA WALLACE