The Vietnamese: EU Officials Raised Concern Over Worrying Human Rights Situation In Vietnam
"The human rights situation in Vietnam is worrying," according to Commissioner for Trade of the European Union, Cecilia Malmström, after her meeting with independent Vietnamese civil society organizations on March 14, 2019.
When announcing the adoption of the EU-Vietnam trade and investment agreements (EV-FTA) in October 2018, Commissioner Malmström had hoped that such agreements would "help spread European high standards and create possibilities for in-depth discussions on human rights and the protection of citizens."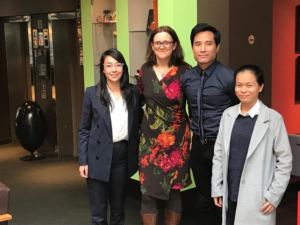 However, during recent months, the human rights situation in Vietnam did not improve.
Instead, it became more concerning.
Commissioner Malmström is not the only EU official who has expressed concerns over the worrying trend of suppression on human rights in Vietnam in recent months.
32 MEPs from across the political spectrum of the EU Parliament signed a letter back in September 2018, calling on the EU to demand specific human rights improvements from Vietnam before the ratification of the EV-FTA.
EU Spokesperson on Foreign Affairs and Foreign Policy, Maya Kocijancic, also confirmed in an interview with Radio Free Asia earlier this month, that during the 8th EU-Vietnam Human Rights Dialogue held in Brussels on March 4, 2019, the EU had addressed specific cases of prisoners of conscience with the Vietnamese delegation.
Ms. Kocijancic also stated during the same interview that the annual dialogue "raised a wide range of issues related to freedom of expression, cybersecurity, the death penalty, environmental and labor rights, cooperation within the United Nations framework."
As of today, The 88 Project's database documented 21 Vietnamese activists are held in pre-trial detention. There are 218 other activists currently serving a prison sentence; among them, 30 are female activists and 51 indigenous political prisoners.
According to VOICE (Vietnamese Overseas Initiative for Conscience Empowerment), one of the organizations attended the meeting with Commissioner Malmström, the unconditional and in-country release of Vietnamese prisoners of conscience must be the first human rights benchmark before the ratification of the EV-FTA.
Vi Tran, from The Vietnamese.
——–
Photo from Malmström's Twitter, Commissioner for Trade of the European Union.
Meeting Vietnamese HR organisations to discuss the worrying human rights situation in Vietnam. pic.twitter.com/mAP9U07Zb1

— Cecilia Malmström (@MalmstromEU) March 14, 2019