VOICE Australia and Prisoner of conscience Dinh Nguyen Kha's mother advocate for human rights in Vietnam
On 12 July 2017, VOICE, along with a number of interested civil society organizations (CSOS) met with Dr. Lachlan Strahan, First Assistant Secretary of the Multilateral Policy Division, Department of Foreign Affairs and Trade in Canberra, Australia, ahead of the fourteenth Australia-Vietnam Human Rights Dialogue, which is expected to be held in Canberra in August.
Ms. Giang Nguyen represented VOICE Australia and Ms. Anna Nguyen represented VOICE, along with Mrs. Nguyen Thi Kim Lien, mother of Prisoner of conscience, Dinh Nguyen Kha, who is currently serving a 6-year sentence for distributing pamphlets critical of the Vietnamese government.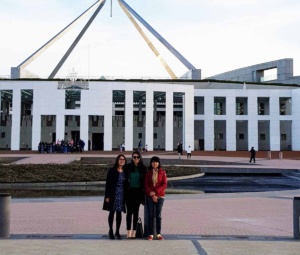 The Dialogue is an important component of the bilateral relationship between Australia and Vietnam, which allows discussion of the full range of human rights issues of interest and concern in a constructive, franks and open atmosphere.
Ms. Anna Nguyen, on behalf of VOICE, made a number of submissions to Dr. Strahan and his staff at DFAT in order to help expand civil society in Vietnam and send a strong international message to the Vietnamese government.
This was VOICE's third participation in the meeting prior to the Australia-Vietnam Human Rights Dialogue. VOICE will continue to play an integral role in future dialogues.
VOICE representative, Ms Anna Nguyen and Mrs Nguyen Thi Kim Lien met with Ms. Elaine Pearson, Australia Director at Human Rights Watch today in Sydney to discuss matters of concern relating to prisoners of conscience and human rights issues in Vietnam. Specially, Dinh Nguyen Kha's current medical condition and Human Rights Watch's Vietnam report, No Country for Human Rights Activists: Assaults on Bloggers, and Democracy Campaigners in Vietnam, published on 18 June 2017, was brought up, as well as Mrs. Lien Nguyen's idea to start a network for parents of prisoners of conscience in Vietnam.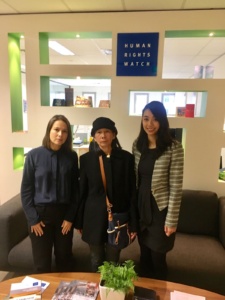 Human Rights Watch is an American-founded international non-governmental organization that conducts research and advocacy on human rights and has routinely called out on the Vietnamese government and authorities on its treatment of bloggers and human rights activists.