Reporting Live: The Trial of Mother Mushroom 29/06/2017
Reporting Live: The Trial of Mother Mushroom 29/06/2017 (VOICE team synthesis)
– 5:10 PM: The court has just announced Mother Mushroom's sentence: 10 years in prison.
– 2:00 PM: Labor Newspaper has published the article, "Proposal of 8-10 Years Imprisonment for Mother Mushroom." Link here: http://nld.com.vn/thoi-su-trong-nuoc/de-nghi-8-10-nam-tu-doi-voi-me-nam-2017062913405768.htm
There are many people participating in the public hearing, but in reality, many people have not been able to even enter the court. The article posted a photo showing Mushroom's mother attending the trial, but in the picture, no one was Ms. Lan, Mushroom's mother.
– 1:45 PM: Trinh Kim Tien interviewed Lawyer Vo An Don after the morning trial. Mother Mushroom has five lawyers but only three lawyers are present, including Vo An Don. Apparently, Mushroom proposed to postpone the trial, but it was not approved. Her attorneys ventured to meet with her, but they were also dismissed. All the while, Mushroom is still being denied to see her Mother, Ms. Lan.
– 1:00 PM: Trinh Kim Tien interviewed Ms. Lan after she left the courtroom. She explained that she was not in the actual trial room, but was instead taken to a separate room to watch it all on television. According to Ms. Lan, Mother Mushroom was not able to present her own argument and view without being interrupted. Ms. Lan claims that the 8-10 year jail proposal by the procuracy was a completely unjust sentence and it only served to expose the regime's immorality.
https://www.facebook.com/trinhkimkim/videos/1519361338084095/
– 12:50 PM: Lawyer Le Luan, advocate for Mother Mushroom, shared on Facebook this morning: I request the convening of three assessors of the Department of Information and Communication Khanh Hoa province on many terms. The argument "I find it difficult to understand," that the chairman spewed at my request is not justified should be reconsidered.
– 12:00 PM: Nguyen Minh Bao Ngoc, cousin of Mother Mushroom, has been arrested and taken to the Xuan Huan Police Station (address: 11 Phan Boi Chau, Nha Trang). Because of this, Ms. Lan and her family are moving to Xuan Huan to demand her release.
– 11:45 AM: Lunch break; at 2:00 PM, the trial continues.
Lawyer Le Kha Thanh reveals that the prosecutor has proposed 8-10 additional years in jail for Mother Mushroom.
– 11:20 AM: Representatives of several civil society organizations are holding a meeting to protest the trial of Nguyen Ngoc Nhu Quynh (Mother Mushroom) in Khanh Hoa, Nha Trang. Https://www.facebook.com/photo.php?fbid=973399029466814&set=a.135990509874341.27922.100003901786714&type=3&theater
– 11:00 AM: Blogger Trinh Kim Tien has updated on Facebook that the morning trial is coming to an end. There is also a doctor, guarded by security, standing outside the court door for unknown reasons.
– 10:40 AM: Young activists protest outside the courthouse by standing behind the barriers and duct-taping their mouths shut.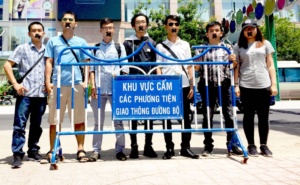 – 9:40 AM: From Saigon, Vo Hong Ly took to the streets waving the high banner:
"Free Mother Mushroom
Patriotism is not Evil
Environmental & Human Rights for Vietnam"
– 8:35 AM: Outside the trial area, blogger Nguyen Ho Nhat Thanh hosted a live stream (https://www.facebook.com/paulothanhnguyen/videos/1545808958796675/) where he interviewed a few young supporters of Mother Mushroom. One of the supporters, young Phat, states that Mushroom's sensible activism in fighting for human rights, against Formosa, is not malicious propaganda. It is not something to be afraid of. Another supporter named Nam claims that the authorities should honor Mother Mushroom as an international organization and peacekeeper, rather than condemn her.
Blogger Trinh Kim Tien interviewed Nguyen Minh Hung, Mother Mushroom's Uncle (Ms. Lan's brother). Minh Hung left his home quite early to attend the court session, but he was not allowed inside. The post can be found here: https://www.facebook.com/trinhkimkim/videos/1519031794783716 /
He says: "I came here for the public hearing but it is nowhere near "public". Proof is that we are relatives, but we not let in. "
When asked if he knew about Mushroom's activities, Hung replied, "My niece did nothing wrong. She only speaks truth about this State, but the State does not like the truth. I hope the State will reconsider, and dare to face reality."
Also, Le Cong Dinh, a prestigious lawyer, posted a facebook status (https://www.facebook.com/LSLeCongDinh/posts/1900342693572839) that reads: "DOWN WITH THE RIDICULOUS TRIAL OF MOTHER MUSHROOM! No matter the outcome, that judgement would fall on the inhumane communist regime."
– 8:30 AM: The Khanh Hoa People's Court opens the trial of Mother Mushroom, accusing her of committing "propaganda against the Socialist Republic of Vietnam," under Article 88 of the Penal Code. There are four lawyers for Mother Mushroom in this trial: Nguyen Ha Luan, Le Van Luan, Nguyen Kha Thanh and Vo An Don. Two unidentified people, one woman and one young man, have been arrested in the court area simply for picking up their phones. More than 10 supporters that have traveled from Saigon to Nha Trang are standing 100 meters away from the court area, intermixed with the Khanh Hoa and Saigon security enclosures.
Six of Mother Mushroom's close friends are in the court area, and no one has been allowed inside, except Ms. Lan, Mother Mushroom's Mother. However, no one is able contact Ms. Lan. This is possibly due to the fact that outside, there are many signal waves that are being jammed or tampered with by the Government. All means of communication are cut off.
– 7:45 AM: Ms. Tuyet Lan, Mother Mushroom's mother and blogger Trinh Kim Tien have begun walking to the courthouse, past the ring of police and secret services. They could not acquire a taxi or bus because of the heavy surveillance. Ms. Lan's family had to resort to using a motorbike to get to the court. At about 7:45 am, Ms. Lan was admitted into the court area, but she did not know if she could go to the specific courtroom her daughter was in. Meanwhile, blogger Trinh Kim Tien was blocked outside, despite her request to attend the trial as a related person. Tien was also asked to shut down her phone as she was shooting a live stream on Facebook.
– 7:00 AM: The current situation is quite tense; it is difficult to approach the trial. The police forces are surrounding the trial within a 500 meter radius. The house of Mother Mushroom's mother is also surrounded by nearly 20 police officers, some in uniform and some wearing ordinary clothing.
– Yesterday afternoon (June 28, 2017): Mother Mushroom's daughter and mother were allowed to see her, despite the countless barriers that were assembled to block away the public.
However, Mother Mushroom was able to meet with her mother for just five minutes. Her devastated mother told Mushroom to simply apologize, but Mushroom insisted, "If you let me start this journey over and choose where to go, I would have done what I did."
Background: Blogger Nguyen Ngoc Nhu Quynh, more commonly known as Mother Mushroom, writes about social equality and speaks out for democracy and human rights. Mother Mushroom was the Civil Rights Defender of the year in 2015, awarded by the Swedish Civil Rights Defenders Foundation. She was also awarded the International Woman of Courage Award in 2017 by Melania Trump, the First Lady of the United States.
In relation to the aforementioned activities, she has been arrested several times between 2009 and 2016. However, the most eminent case and the reason for her trial today is based on her last arrest, which has kept her in prison from October 2016 until now.
#FreeMeNam
#FreeNguyenNgocNhuQuynh
#WomenOfCourage
#FormosaGetOut