The Human Rights Subcommittee send Correspondence to VOICE about Human Rights issues in Vietnam
What did VOICE accomplish in 2017 and 2018?
See the pictures below that highlight what we achieved in the past two years, from four main activities: Training, Civil Society, Advocacy and Refugee Resettlement.
We achieved this not only by the efforts of VOICE members but also through the support of volunteers, VOICE affiliates, partners and especially our enthusiastic supporters in Vietnam and around the world. Thank you to all of you who have made this success possible!
Read More
VOICE in conjunction with other NGOs submitted contributions to the Universal Periodic Review
On July 12, 2018, VOICE in conjunction with CIVICUS, Human Rights Foundation, VOICE Vietnam, and the Civil Society Forum submitted contributions to the United Nations' Human Rights Council's Universal Periodic Review (UPR). This report draws attention to the human rights violations occurring in Vietnam with particular focus on civil society, freedoms of association, peaceful assembly and expression, and unwarranted restrictions on human rights defenders (HRDs) since its 2nd UPR examination in January 2014.
The report can be found here: UPR Submisson – Vietnam
The UPR is a unique process, which involves a periodic review of the human rights records of all 193 UN Member States. The UPR is a significant innovation of the Human Rights Council, which is based on equal treatment for all countries. It provides an opportunity for all States to declare what actions they have taken to improve the human rights situations in their countries and to overcome challenges to the enjoyment of human rights. The UPR also includes a sharing of best human rights practices around the globe. Currently, no other mechanism of this kind exists.
During the last UPR cycle, the Government of Vietnam received 37 recommendations relating to civic space. Of these recommendations, 29 were accepted and eight were noted. An evaluation of a range of legal sources and human rights documentation addressed in subsequent sections of this submission demonstrates that the Government of Vietnam has partially implemented six recommendations relating to civil society space and not implemented the remaining 31. The government has persistently failed to address unwarranted restrictions on civic space since its last UPR examination and acute implementation gaps were found with regard to the rights to the freedoms of association, peaceful assembly and expression and the protection of HRDs and bloggers.
The United Nations' Human Rights Council is scheduled to review Vietnam's human rights obligations on January 22, 2019.
More information about the UPR process can be found here:
VOICE holds Vietnam accountable to human rights agreements on mid-term campaign
VOICE delegation at the UN office in Geneva. From left to right: Anna Nguyen, Le Thi Minh Ha, and Dinh Thao. Source: VietnamUPR Facebook page
Haiy Le, October 9, 2017: When the human rights group, Vietnamese Overseas Initiative for Conscience Empowerment (VOICE), sent a delegation to the United Nations Human Rights Council in 2014, the delegation was made up of three men and all were citizens of Vietnam. This year, the trio is all female.
"We did not purposely want to have a female delegation," said Anna Nguyen, Director of Programs at VOICE. A more interesting point, she explained, are the different backgrounds — and continents — the three women come from. Anna is a lawyer born and raised in Australia. Joining her is Le Thi Minh Ha, the wife of blogger Nguyen Huu Vinh who was sentenced in March 2016 to five years in prison by the Vietnamese government for founding and operating a successful independent news blog. The third member is Dinh Thao, a Vietnamese citizen who left her career as a medical doctor to become an activist working out of VOICE's headquarters in the Philippines and is now stationed in Belgium as the European Union Program Coordinator.
As activists waging a long war against Vietnam's authoritarian government, they are unbothered by the comments littered on the VOICE Facebook page calling them "dogs" and "liars" who should "die." The group suspects the comments come from hacks paid by the Vietnamese government. In the spirit of free expression though, the malicious comments are free to stay. It's the opposite of what Hanoi is doing.
In 2017 alone, Vietnam's one-party Communist government has detained or sentenced 16 activists under the country's draconian penal code, and specifically Article 88, which makes it a crime to "propagate" against the government. Human Rights Watch has reported on the country's long history limiting freedom of expression, which has sent more than 100 activists to prisons. The country's repression has led to thousands of refugees seeking political freedoms and economic opportunities to live and work elsewhere under more democratic and transparent governance.
VOICE was founded in 1997 as a legal aid office in the Philippines to help stateless Vietnamese refugees resettle in countries, including Australia, the U.S. and Canada. Since then, the nonprofit's mission has branched out to include advocacy for human rights and the rule of law in Vietnam.
Anna's career has evolved somewhat similarly. She began her career as a refugee lawyer in Australia where for three years she worked with asylum seekers from Iran, Iraq, Afghanistan and Vietnam. "That's when I started to learn about the human rights situation in Vietnam. Instead of helping people leave the country, I wanted to explore why people were leaving in the first place. The war ended in 1975 but why are people still leaving?"
Since joining VOICE in 2014, Anna's work includes communicating with foreign governments and multilateral organizations, and persuading them to use their influence to put pressure on Vietnam. She also makes sure these foreign bodies hear from independent activists and civil society groups in Vietnam. "Many of these activists are banned from traveling and don't have a platform, so it's great that we can give them a voice," she said.
In 2014, a 23-member delegation from Hanoi met with the U.N. Human Rights Council for the Universal Periodic Review (UPR), a review process on the human rights records of all UN Member States. The Vietnamese government agreed to the implementation of some UPR recommendations and rejected others, notably the release of prisoners and the revision of vague national security laws that are used to suppress human rights.
The goals of this year's Mid-term UPR Advocacy Campaign are to follow up on the recommendations and to advocate for the prisoners, particularly Tran Huynh Duy Thuc, a technology entrepreneur and blogger who was sentenced to 16 years for "conducting activities aimed at overthrowing the people's administration" on January 2010; Nguyen Ngoc Nhu Quynh, better known by her pen name, Mother Mushroom, is a blogger convicted of "anti state propaganda" on June 2017 and sentenced to ten years' imprisonment; and Tran Thi Nga, a blogger sentenced to nine years' imprisonment on July 2017 for "anti state propaganda" in her sharing of articles and videos highlighting abuses tied to environmental crises and political corruption. In the past couple of months, there has been a rise in the number of female activists targeted by the government. Mother Mushroom wrote that she was motivated to create a better future for her two children.
The mid-term campaign, which runs from September 15 through October 10, has been in the planning stages since the last UPR. The delegation has organized a marathon of meetings with foreign bodies in Germany, Switzerland, Sweden, Norway, Belgium and the Czech Republic to give suggestions on how these groups can exert pressure on Hanoi.
In a recent case that has made headlines for its Cold War style of abductions, a Vietnamese asylum seeker was snatched off the streets of Berlin in broad daylight on August 24 — one day before his asylum hearing — and whisked back to Vietnam on corruption charges. In a meeting with Germany's Office of Foreign Affairs on September 15, VOICE raised concerns to Annette Knobloch, Deputy Head of Unit of South East Asia/Pacific.
"We made them a number of suggestions and then a few days after our meeting, it was announced in the news that Germany had expelled another diplomat," Anna said.
As Vietnam's biggest trading partner in the EU, Germany has influential leverage through its purse strings. There's also Germany's development aid to Vietnam, which in 2015 was $257 million distributed over two years.
On top of the meetings with Germany and other foreign governments, the delegates have communicated with UN Special Rapporteur on human rights defender, Michel Forst, and CIVICUS, a group working to strengthen civil society. VOICE's collaboration with CIVICUS, which has consultative status with the UN, gave VOICE the opportunity to present in front of the UN Human Rights Council on September 19.
"We call on the Vietnamese government to implement in good faith the UPR recommendations it accepted in 2014," Thao read in her statement. "We call on the UN Member States to urge Vietnam to free all prisoners of conscience."
Thao said the presentation alone has made the 25-day campaign a successful one for her, in spite of the stressful logistics, the back-to-back meetings and the harassment from the Vietnamese government that she, her colleagues and family in Vietnam have received due to her activism.
After the campaign ends, the delegates plan to follow up on the meetings and maintain the contacts they met. "It's really easy to meet people but if there's nothing done after that, there's no point in meeting them," Anna acknowledged. They will also start making plans for the 3rd UPR in January 2019, which will involve more people, workshops and a UN session dedicated to addressing Vietnam's human rights situation.
Being a human rights defender is like running in a marathon, Anna described. "You cannot expect to see the finish line straight away. It's hard and arduous, and you will need to eventually pass on the baton to your comrades and colleagues. But like all marathons, you will eventually see the finish line."
Haiy Le is a freelance journalist and previously worked at the San Francisco Chronicle and Newsela. She grew up listening to her father's stories from the the Vietnam War and became more interested in Vietnamese foreign affairs while studying International Relations and Communication at Stanford University. Follow her @HaiyLe
VOICE Representative's speech at the UN Human Rights Council
Let's listen to our statement before the United Nations' Human Rights Council today, delivered by Đinh Thảo, one of our delegates, a staff of VOICE.
We are proud to bring voices of conscience from #Vietnam to the international community's attention.
19 September 2017
36th Session of the UN Human Rights Council
Thank you, Mr. Vice President,
We are gravely concerned by the crackdown on human rights defenders in Vietnam. Despite its international treaty obligations and recommendations accepted at the UPR to respect freedom of expression and civil society space, the Government of Vietnam is doing the exact opposite.
In the first eight months of this year, at least 16 activists have been detained, arrested or sentenced under the country's draconian Penal Code, including 6 members of the group, Brotherhood for Democracy, who could face the maximum sentence of death for their peaceful human rights work. Two female activists, Nguyen Ngoc Nhu Quynh and Tran Thi Nga, have been sentenced to 10 and 9 years in prison, for peacefully criticizing the government and have been subjected to dire prison conditions. I am also here with Ms. Le Thi Minh Ha, wife of Anh Ba Sam – Nguyen Huu Vinh who was sentenced to 5 years for simply blogging against the Government.
There are, in fact, hundreds of prisoners of conscience in Vietnam right now, yet Vietnam fails to acknowledge their existence.
Mr. Vice President, we call on the Vietnamese government to implement in good faith the UPR recommendations it accepted in 2014 as well as those made by Special Procedures and Treaty Bodies. We call on the UN Member States to urge Vietnam to free all prisoners of conscience.
CIVICUS presents this statement together with VOICE.
Thank you, Mr. Vice President.
#VietnamUPR #HRC36
VOICE Launches Mid-term UPR Advocacy Campaign 2017
13/9/2017 – Following VOICE's Universal Periodic Review Advocacy Campaign in 2014, a delegation advocating for human rights in Vietnam will go to Germany, Switzerland, Sweden, Norway, Belgium, and the Czech Republic to update United Nations bodies and relevant organizations on the progress (or lack of) the Vietnamese government has made on promoting and protecting human rights since the last review cycle in 2014, as well as to raise awareness about the human rights situation and prisoners of conscience in Vietnam.
The campaign will be launched on the birthday of imprisoned blogger, Mr. Nguyen Huu Vinh (pen name Anh Ba Sam), on September 15th and will last until October 10th, 2017. The delegation consists of Ms. Le Thi Minh Ha, the wife of Mr. Nguyen Huu Vinh, as well as VOICE representatives and Vietnamese human rights defenders, Ms. Anna Nguyen and Ms. Thao Dinh.
In particular, Ms. Thao Dinh will speak before the United Nations Human Rights Council (inter-governmental body within the United Nations system made up of 47 States responsible for the promotion and protection of all human rights around the globe) in Geneva, Switzerland, on September 19th in order to raise further attention to Vietnam's severe human rights violations. This event will be televised live.
With assistance from the relevant international organizations, this delegation aims to provide full and accurate information on the current human rights situation in Vietnam. It is hoped that our advocacy will inspire further changes to encourage the Vietnamese government to better respect and protect human rights as a state party to multiple UN human rights treaties.
For more information regarding the delegation and its activities, please contact: contact@vietnamvoice.org
Los Angeles Times: Inspired to 'build trust and work together,' Tibetans and Vietnamese hold human rights conference in Little Saigon
President Lobsang Sangay, head of the Tibetan government-in-exile in India, center right, prays with monks at a temple as Hoi Trinh, a lawyer and expert in international refugee law, stands nearby during a human rights conference Saturday in Orange County's Little Saigon. (Anh Do / Los Angeles Times)
The Tibetan leader, draped in a silky, traditional loose coat, joined a group of monks in prayers with a single purpose: charting a path toward peace.
Near Lobsang Sangay, the Harvard-educated ruler of the Tibetan government in exile, stood Hoi Trinh, a Vietnamese and Australian lawyer lauded as an expert in international refugee law and policies.
In an unprecedented gathering in Westminster to highlight human rights abuses, both Trinh and Sangay described themselves as men who come from nations "on the same journey," whose people struggle under communist brutality but refuse to give up fighting for freedom.
Basic human rights and freedom continue to be denied to 6 million Tibetans inside their homeland, exploited for its rich minerals under China's control, and to 95 million Vietnamese in Vietnam, resulting in beatings, deaths, imprisonment without trials and self-immolations, they said.
The crowd of nearly 250 people reserved its loudest cheers for Sangay, who said: "Communism is 100 years old. Buddhism is 2,500 years old. There is no competition between the two," praising the religion's endurance "because it has this innate strength. The foundation is solid."
Even if Chinese leaders destroyed more than 90% of Tibet's monasteries and nunneries after its takeover of their homeland in 1959, expatriate Tibetans working with the Dalai Lama, their spiritual leader, succeeded in spreading Buddhism back into Tibet and across the globe, Sangay said.
New dharma centers that have opened in past decades around the world show the vitality and beauty of the religion, he added. "Your struggles are very similar to ours. We are in solidarity," Sangay said, in a nod to listeners at the great hall of the Dieu Ngu Temple in Little Saigon.
Although Tibetans are forbidden to own a photo of the Dalai Lama, or shout a slogan of democracy on the streets of Tibet — at risk of going to prison and being tortured — Sangay said they are not intimidated by the Chinese government. "You can buy goods with money. You can force action with guns," he said. "But, ultimately, if you want to win the hearts and minds of people, you need respect."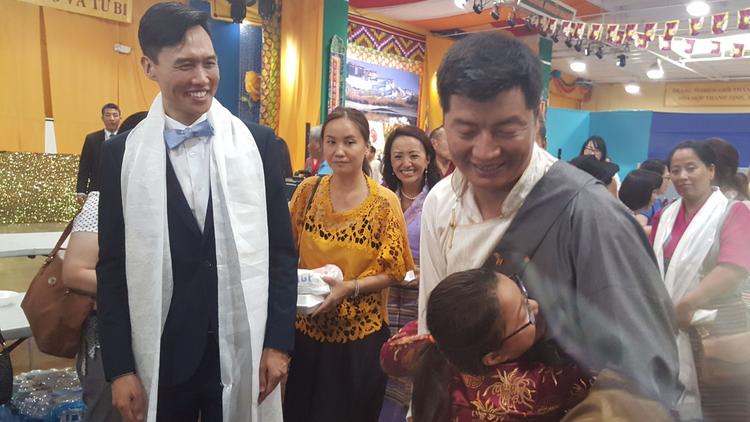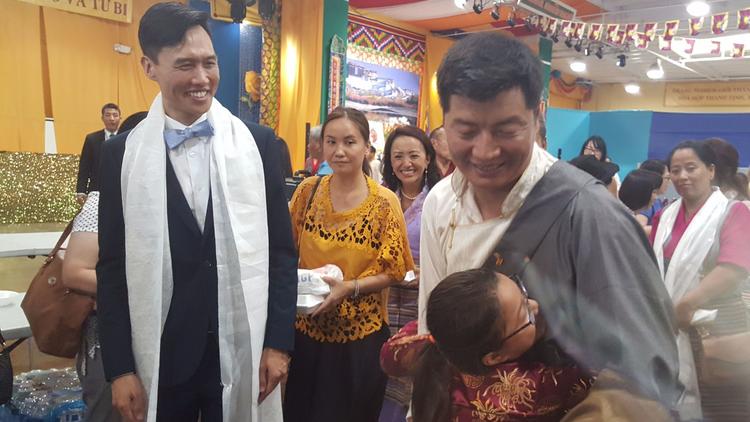 Almost every local Vietnamese American political figure — from members of the Garden Grove Unified School District board, to council members from Garden Grove, Fountain Valley and Westminster, to a county supervisor and state senator — made appearances to back the human rights campaign. Congressman Dana Rohrabacher (R-Costa Mesa), who has fought against the repression of Tibetans, sat in the front row, waving to immigrants as they held up their cellphones to capture him speaking.
Two years ago, the Freedom House index listed Syria as the least free country in the world — with Tibet ranked No. 2.
Trinh and Sangay attacked China as "the biggest bully," with Trinh explaining that he preferred to move Saturday's focus beyond human rights issues, which have been carefully documented by bloggers, the media or non-governmental organizations, to talking about solutions. Trinh asked people to train activists and provide financial support to groups fighting for human rights in Southeast Asia.
"Don't just listen, you must get involved," Trinh urged.
Many in the audience were left inspired by the speakers.
"Finally, there is guidance," pharmacist Elise Phan, 43, said after Trinh's remarks. "I'm grateful there is Vietnamese young talent out there who sacrifice their professional life to raise human rights in our country. That is everything to me."
"Definitely, we both can help each other in our struggles," says Nawang Lhautara, 67, a retired insurance executive from Ojai who also attended. "We need to combine our heads and figure out more of what to do."
Chog Tsering, a board member of the Tibetan Assn. of Southern California who helped organize Saturday's event by partnering with the Vietnamese American Buddhist Congregation in the USA, agreed.
"The right thing to do is to build trust and work together," Tsering said. "We have the same hearts."
Source from Los Angeles Times
4 things that VOICE changed my life forever
In order to enhance the interns' public communication skill, VOICE usually organizes presentation competition simulating according to the form of "TED Talk". They do not only present in Vietnamese but also in English. There will be three TED Talk competitions in one six-months long-term training program of VOICE: two in Vietnamese and one in English.
The following is the script of Hannah Vu's speech that won the first place in the last TED Talk competition:
My name is Hannah, I am 24 years old. I am an activist from Vietnam, and I am also an intern at VOICE, I have been in the Philippines for 6 months.
6 months ago I wanted to become a rich person with a lot of money, today I still want to become a rich person but of knowledge and loves.
6 months ago I didn't know how to introduce myself in English, but today I can make an English presentation.
6 months ago, I was single, today I have a very "handsome" boyfriend.
So, why my life has changed too fast? It's because of VOICE.
Today I will talk about 4 things that VOICE changed my life forever.
Firstly, VOICE gives me an opportunity to go back to school. I had to leave my school when I was 15 years old because of family problems. My dad passed away when I was 10 years old. After that, my family didn't have enough money for me to continue in school.
Going back to school always is my dream, but it seemed impossible. That's why when I got VOICE scholarship and came here, I have to say as my dream comes true. At VOICE school, I have classes, I have teachers, I have classmates and I can learn everything what I loved to.
The second thing that VOICE changes me is respecting the differences. Before I came here I didn't hate but I also didn't like LGBT people, now I really love them. Before I came here it was very easy to make me angry if someone say something not good about my religion, but now I feel comfortable and I want to hear more from them. I have to change myself a lot because of VOICE working environment. At VOICE, there are people from different regions of Vietnam: the North, the South, and from the center. There are also different religions: Catholics, Christians, and Buddhists.
VOICE gave me a lesson: the only way we can live together happily is for us to respect the differences of each other.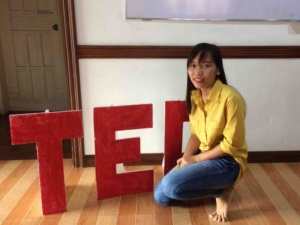 Thirdly, VOICE makes me more confident. When I first came here, my English was zero, as our office manager used to say: when I came here, even I could not spell my name. But today I can stand here and do a TED talk in English in front of all of you. Next month, I am going to some conferences abroad and I will have some English presentations. The important thing is I believe that I can do well. I know I still need to improve more, but I think it's good for me for six months.
And not only English but also a lot of skills that VOICE gives me. I cannot imagine myself a worker 3 years ago can do all things what I am saying today. 3 years ago I even didn't know how to use computer, I didn't know what Microsoft word or excel is. VOICE helps me to achieve the impossible things. I know I tried my best, but I understand that I cannot try myself without VOICE.
Finally, that VOICE changes me. After 6 months I can see my passion more clearly. I know who I want to become and what I need to do to help our country.  And, after 6 months, I got a lot of skills, experiences.
Today I can see the big picture of Vietnam. I know how to build a team of people with the same vision and mission, I know how to start a social project and make a good campaign.
Today I am confident to say: I am a young person, I am an activist, I will contribute to democratic process of Vietnam. And I will inspire the other people.
Every day there are many opportunities coming to us. For me, I am very happy about what I did choose 6 months ago, it was my opportunity.
In our lives , there are many turning points. To me, until now, the most wonderful turning point in my life is coming to VOICE.
Thank you VOICE.
Thank you for listening.
VOICE Australia and Prisoner of conscience Dinh Nguyen Kha's mother advocate for human rights in Vietnam
On 12 July 2017, VOICE, along with a number of interested civil society organizations (CSOS) met with Dr. Lachlan Strahan, First Assistant Secretary of the Multilateral Policy Division, Department of Foreign Affairs and Trade in Canberra, Australia, ahead of the fourteenth Australia-Vietnam Human Rights Dialogue, which is expected to be held in Canberra in August.
Ms. Giang Nguyen represented VOICE Australia and Ms. Anna Nguyen represented VOICE, along with Mrs. Nguyen Thi Kim Lien, mother of Prisoner of conscience, Dinh Nguyen Kha, who is currently serving a 6-year sentence for distributing pamphlets critical of the Vietnamese government.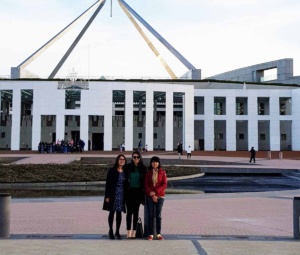 The Dialogue is an important component of the bilateral relationship between Australia and Vietnam, which allows discussion of the full range of human rights issues of interest and concern in a constructive, franks and open atmosphere.
Ms. Anna Nguyen, on behalf of VOICE, made a number of submissions to Dr. Strahan and his staff at DFAT in order to help expand civil society in Vietnam and send a strong international message to the Vietnamese government.
This was VOICE's third participation in the meeting prior to the Australia-Vietnam Human Rights Dialogue. VOICE will continue to play an integral role in future dialogues.
VOICE representative, Ms Anna Nguyen and Mrs Nguyen Thi Kim Lien met with Ms. Elaine Pearson, Australia Director at Human Rights Watch today in Sydney to discuss matters of concern relating to prisoners of conscience and human rights issues in Vietnam. Specially, Dinh Nguyen Kha's current medical condition and Human Rights Watch's Vietnam report, No Country for Human Rights Activists: Assaults on Bloggers, and Democracy Campaigners in Vietnam, published on 18 June 2017, was brought up, as well as Mrs. Lien Nguyen's idea to start a network for parents of prisoners of conscience in Vietnam.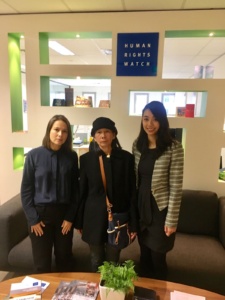 Human Rights Watch is an American-founded international non-governmental organization that conducts research and advocacy on human rights and has routinely called out on the Vietnamese government and authorities on its treatment of bloggers and human rights activists.
Reporting Live: The Trial of Mother Mushroom 29/06/2017
Reporting Live: The Trial of Mother Mushroom 29/06/2017 (VOICE team synthesis)
– 5:10 PM: The court has just announced Mother Mushroom's sentence: 10 years in prison.
– 2:00 PM: Labor Newspaper has published the article, "Proposal of 8-10 Years Imprisonment for Mother Mushroom." Link here: http://nld.com.vn/thoi-su-trong-nuoc/de-nghi-8-10-nam-tu-doi-voi-me-nam-2017062913405768.htm
There are many people participating in the public hearing, but in reality, many people have not been able to even enter the court. The article posted a photo showing Mushroom's mother attending the trial, but in the picture, no one was Ms. Lan, Mushroom's mother.
– 1:45 PM: Trinh Kim Tien interviewed Lawyer Vo An Don after the morning trial. Mother Mushroom has five lawyers but only three lawyers are present, including Vo An Don. Apparently, Mushroom proposed to postpone the trial, but it was not approved. Her attorneys ventured to meet with her, but they were also dismissed. All the while, Mushroom is still being denied to see her Mother, Ms. Lan.
– 1:00 PM: Trinh Kim Tien interviewed Ms. Lan after she left the courtroom. She explained that she was not in the actual trial room, but was instead taken to a separate room to watch it all on television. According to Ms. Lan, Mother Mushroom was not able to present her own argument and view without being interrupted. Ms. Lan claims that the 8-10 year jail proposal by the procuracy was a completely unjust sentence and it only served to expose the regime's immorality.
https://www.facebook.com/trinhkimkim/videos/1519361338084095/
– 12:50 PM: Lawyer Le Luan, advocate for Mother Mushroom, shared on Facebook this morning: I request the convening of three assessors of the Department of Information and Communication Khanh Hoa province on many terms. The argument "I find it difficult to understand," that the chairman spewed at my request is not justified should be reconsidered.
– 12:00 PM: Nguyen Minh Bao Ngoc, cousin of Mother Mushroom, has been arrested and taken to the Xuan Huan Police Station (address: 11 Phan Boi Chau, Nha Trang). Because of this, Ms. Lan and her family are moving to Xuan Huan to demand her release.
– 11:45 AM: Lunch break; at 2:00 PM, the trial continues.
Lawyer Le Kha Thanh reveals that the prosecutor has proposed 8-10 additional years in jail for Mother Mushroom.
– 11:20 AM: Representatives of several civil society organizations are holding a meeting to protest the trial of Nguyen Ngoc Nhu Quynh (Mother Mushroom) in Khanh Hoa, Nha Trang. Https://www.facebook.com/photo.php?fbid=973399029466814&set=a.135990509874341.27922.100003901786714&type=3&theater
– 11:00 AM: Blogger Trinh Kim Tien has updated on Facebook that the morning trial is coming to an end. There is also a doctor, guarded by security, standing outside the court door for unknown reasons.
– 10:40 AM: Young activists protest outside the courthouse by standing behind the barriers and duct-taping their mouths shut.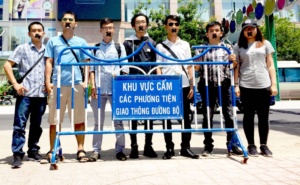 – 9:40 AM: From Saigon, Vo Hong Ly took to the streets waving the high banner:
"Free Mother Mushroom
Patriotism is not Evil
Environmental & Human Rights for Vietnam"
– 8:35 AM: Outside the trial area, blogger Nguyen Ho Nhat Thanh hosted a live stream (https://www.facebook.com/paulothanhnguyen/videos/1545808958796675/) where he interviewed a few young supporters of Mother Mushroom. One of the supporters, young Phat, states that Mushroom's sensible activism in fighting for human rights, against Formosa, is not malicious propaganda. It is not something to be afraid of. Another supporter named Nam claims that the authorities should honor Mother Mushroom as an international organization and peacekeeper, rather than condemn her.
Blogger Trinh Kim Tien interviewed Nguyen Minh Hung, Mother Mushroom's Uncle (Ms. Lan's brother). Minh Hung left his home quite early to attend the court session, but he was not allowed inside. The post can be found here: https://www.facebook.com/trinhkimkim/videos/1519031794783716 /
He says: "I came here for the public hearing but it is nowhere near "public". Proof is that we are relatives, but we not let in. "
When asked if he knew about Mushroom's activities, Hung replied, "My niece did nothing wrong. She only speaks truth about this State, but the State does not like the truth. I hope the State will reconsider, and dare to face reality."
Also, Le Cong Dinh, a prestigious lawyer, posted a facebook status (https://www.facebook.com/LSLeCongDinh/posts/1900342693572839) that reads: "DOWN WITH THE RIDICULOUS TRIAL OF MOTHER MUSHROOM! No matter the outcome, that judgement would fall on the inhumane communist regime."
– 8:30 AM: The Khanh Hoa People's Court opens the trial of Mother Mushroom, accusing her of committing "propaganda against the Socialist Republic of Vietnam," under Article 88 of the Penal Code. There are four lawyers for Mother Mushroom in this trial: Nguyen Ha Luan, Le Van Luan, Nguyen Kha Thanh and Vo An Don. Two unidentified people, one woman and one young man, have been arrested in the court area simply for picking up their phones. More than 10 supporters that have traveled from Saigon to Nha Trang are standing 100 meters away from the court area, intermixed with the Khanh Hoa and Saigon security enclosures.
Six of Mother Mushroom's close friends are in the court area, and no one has been allowed inside, except Ms. Lan, Mother Mushroom's Mother. However, no one is able contact Ms. Lan. This is possibly due to the fact that outside, there are many signal waves that are being jammed or tampered with by the Government. All means of communication are cut off.
– 7:45 AM: Ms. Tuyet Lan, Mother Mushroom's mother and blogger Trinh Kim Tien have begun walking to the courthouse, past the ring of police and secret services. They could not acquire a taxi or bus because of the heavy surveillance. Ms. Lan's family had to resort to using a motorbike to get to the court. At about 7:45 am, Ms. Lan was admitted into the court area, but she did not know if she could go to the specific courtroom her daughter was in. Meanwhile, blogger Trinh Kim Tien was blocked outside, despite her request to attend the trial as a related person. Tien was also asked to shut down her phone as she was shooting a live stream on Facebook.
– 7:00 AM: The current situation is quite tense; it is difficult to approach the trial. The police forces are surrounding the trial within a 500 meter radius. The house of Mother Mushroom's mother is also surrounded by nearly 20 police officers, some in uniform and some wearing ordinary clothing.
– Yesterday afternoon (June 28, 2017): Mother Mushroom's daughter and mother were allowed to see her, despite the countless barriers that were assembled to block away the public.
However, Mother Mushroom was able to meet with her mother for just five minutes. Her devastated mother told Mushroom to simply apologize, but Mushroom insisted, "If you let me start this journey over and choose where to go, I would have done what I did."
Background: Blogger Nguyen Ngoc Nhu Quynh, more commonly known as Mother Mushroom, writes about social equality and speaks out for democracy and human rights. Mother Mushroom was the Civil Rights Defender of the year in 2015, awarded by the Swedish Civil Rights Defenders Foundation. She was also awarded the International Woman of Courage Award in 2017 by Melania Trump, the First Lady of the United States.
In relation to the aforementioned activities, she has been arrested several times between 2009 and 2016. However, the most eminent case and the reason for her trial today is based on her last arrest, which has kept her in prison from October 2016 until now.
#FreeMeNam
#FreeNguyenNgocNhuQuynh
#WomenOfCourage
#FormosaGetOut
VOICE Bangkok Introduction
VOICE Bangkok officially set up its permanent presence in December 2015 and is led by VOICE's ASEAN Program Coordinator, Anna Nguyen. VOICE Bangkok is responsible for the following:
Refugee: Humanitarian and legal assistance to the stateless Vietnamese asylum seekers in South East Asia
Advocacy:
a. Implementing advocacy strategies involving the promotion of human rights in Vietnam as well as raising awareness on behalf of Vietnamese human rights defenders at risk and political prisoners.
b.  Seeking humanitarian assistance for human rights defenders at risk and families of political prisoners.
c.  Filing communications on behalf of Vietnamese human rights defenders and political prisoners through the use of various UN Special Procedures, such as the UN Special Rapporteur on the Freedom of Opinion and Expression, and the Working Group on Arbitrary Detention.
Training: Finding internship and training opportunities for the long-term interns in Manila.
Our achievements so far:
Resettling at least 90 Vietnamese stateless asylum seekers that had been left stranded in Thailand for 27 years to Canada (since 2014)
Receiving at least 50,000 USD from a number of international NGOs and bodies for human rights defenders at risk and families of political prisoners
Developing a close working relationship with the United Nations' Office of the High Commissioner for Human Rights, the Vietnam Human Rights Desk Officer of the US and Swedish Embassy, and international NGOS including Freedom House, Human Rights Watch, Forum Asia, and Amnesty International for advocacy purposes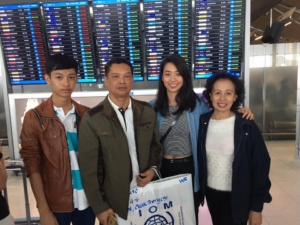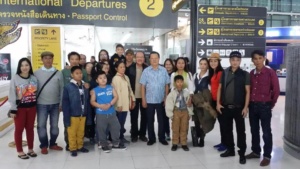 EU's lawyers' letter to VN's PM on Nguyen Van Dai's case
Prime Minister Nguyễn Xuân Phúc
Office of the Prime Minister
1, Hoang Hoa Tham
Hanoi Socialist
Republic of Viet Nam
Brussels, 9 June 2016
Re: Concerns regarding Vietnamese lawyer Nguyen Van Dai
Your Excellency,
I am writing to you on behalf of the Council of Bars and Law Societies of Europe (CCBE), which, through the national Bars and Law Societies of the Member States of the European Union and the European Economic Area, represents more than 1 million European lawyers. In addition to membership from EU bars, it also has observer representatives from a further thirteen European countries' bars. The CCBE places great emphasis on respect for human rights and the rule of law, and is particularly concerned with the situation of human rights defenders around the world.
The CCBE wishes to express its serious concern over the situation of Nguyen Van Dai, a human rights lawyer who founded the Vietnam Human Rights Centre and the Brotherhood for Democracy. Mr. Van Dai has been in detention for nearly six months.
We understand that, on 6 December 2015, as he was on his way back from leading a human rights workshop, Mr. Van Dai was beaten with metal bars by men identified as plainclothes police officers. Ten days later, he was arrested just before he was going to meet representatives of the European Union in Hanoi. His house was searched and officers confiscated his computers, USB sticks, cameras, and savings account's bank book. He was subsequently charged with "spreading propaganda against the Socialist Republic of Vietnam" under Article 88 of the Vietnamese Criminal Code, which has been ruled in violation of international law by the United Nations Human Rights Committee. Mr. Van Dai has been in detention ever since, awaiting trial. If convicted, he faces three to 20 years in prison.
In this context, the CCBE wishes to draw to your attention the Principle of the United Nations Basic Principles on the Role of Lawyers (attached), in particular Principles 16 and 22 on Guarantees for the functioning of lawyers, and Principle 23 on Freedom of expression and association.
In view of the above, the CCBE respectfully urges your Excellency to take effective steps to ensure that the charges against Mr. Van Dai are dropped and that he is released, and to guarantee his safety and security. In addition, the CCBE asks you to guarantee in all circumstances that all lawyers in Viet Nam are able to express their opinions and perform their professional duties without fear of reprisal, hindrance, intimidation, or harassment.
Yours sincerely,
Michel Benichou
President
Thông Cáo Về Tin Đồn VOICE Là Tổ Chức Của Việt Tân
Tải bản PDF tại đây.
21/4/2016 
Thời gian qua, một số cá nhân và cơ quan an ninh Việt Nam đưa tin đồn rằng VOICE là một tổ chức của đảng Việt Tân và ông Trịnh Hội, Giám đốc điều hành của VOICE, là một thành viên của Việt Tân.
Để phản hồi trước những tin đồn vô căn cứ này cũng như xác định vai trò của VOICE trong tiến trình xây dựng xã hội dân sự Việt Nam nhằm thúc đẩy và bảo vệ nhân quyền, Hội Đồng Quản Trị của VOICE xin làm rõ như sau:
1. VOICE không có mối quan hệ nào về mặt tổ chức với Việt Tân hay bất kỳ đảng phái chính trị nào khác trong quá khứ cũng như hiện tại. VOICE là một tổ chức phi chính phủ, phi lợi nhuận và hoàn toàn độc lập, được đăng ký tại tiểu bang California theo quy chế 501(c)(3) của pháp luật Hoa Kỳ vốn không cho phép việc tham gia các hoạt động chính trị đảng phái.
2. Không có thành viên Hội Đồng Quản Trị nào của VOICE hiện nay, bao gồm cả Giám đốc điều hành Trịnh Hội, là thành viên của Việt Tân hay của bất kỳ đảng phái chính trị Việt Nam nào khác, trong quá khứ cũng như hiện tại.
3. Việc ông Hoàng Tứ Duy, đảng viên kiêm phát ngôn viên của Việt Tân hiện nay, từng là thành viên Hội Đồng Quản Trị của VOICE từ năm 2007 đến năm 2010 không tạo ra mối quan hệ nào về mặt tổ chức giữa VOICE và Việt Tân. Ông Hoàng Tứ Duy tham gia Hội Đồng Quản Trị của VOICE khi đó với tư cách cá nhân, không phải với tư cách đại diện của Việt Tân.
Tuyên bố này không đồng nghĩa với việc VOICE chống lại bất kỳ đảng phái chính trị nào. VOICE tái khẳng định lập trường ủng hộ một nền dân chủ cho Việt Nam với sự tham gia mạnh mẽ và hiệu quả của người dân, trong đó có các đảng phái chính trị, vốn là điều kiện để phát triển một xã hội dân sự lành mạnh.
Các thành viên Hội đồng quản trị của VOICE (đã ký):
Chủ tịch: Đoàn Việt Trung
Thành viên: Jaclyn Fabre/Maxwell Vo/Jessica Soto/Trịnh Hội
— Hết thông cáo —
Joint Statement Calling for the Release of Vietnamese Activists: Nguyen Van Dai and Le Thu Ha
On 16 December 2015, prominent human rights lawyer, Mr. Nguyen Van Dai, 46, and his colleague, Ms. Le Thu Ha, 33, were arrested at their home and office in Hanoi, Vietnam, respectively. Both have been charged with "conducting propaganda against the Socialist Republic of Vietnam" under Article 88 of the Vietnamese Penal Code, a law that has been routinely and arbitrarily invoked by the government to suppress critical voices.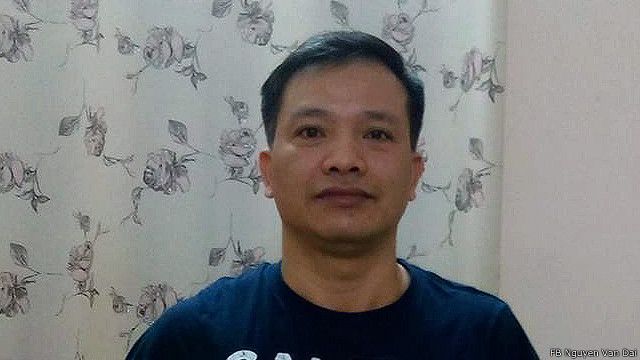 Human rights lawyer Nguyen Van Dai
Mr. Nguyen and Ms. Le are being held in B14 prison in Hanoi. Requests by activists to visit them have been rejected and there are concerns that they are at risk of torture and other ill-treatment. If convicted, Mr. Nguyen and Ms. Le could face up to 20 years in prison.
We appeal to the Vietnamese government to honor its international and domestic obligations and to release Mr. Nguyen and Ms. Le immediately and unconditionally.
We also call on the international community to act and put pressure on the Vietnamese government regarding these cases which have a severe chilling effect on freedom of expression in Vietnam.
During Mr. Nguyen's arrest, his home was searched thoroughly by approximately 20 police officers. His laptops, bank documents and many other personal items were confiscated, while his apartment remains under tight surveillance.
Mr. Nguyen is a well-known peaceful campaigner for a multi-party democracy and the protection of human rights in Vietnam. He has devoted his life to providing legal assistance to the most vulnerable and marginalized people in society.
Mr. Nguyen has repeatedly been subjected to unwarranted persecution for undertaking his legitimate work. In 2007, he was convicted under Article 88 of the Penal Code (employing propaganda against the state) and sentenced to 4 years in prison and placed under 4 years of house arrest. At the time, he had been holding seminars to teach students about the fundamentals of a free society and the rule of law.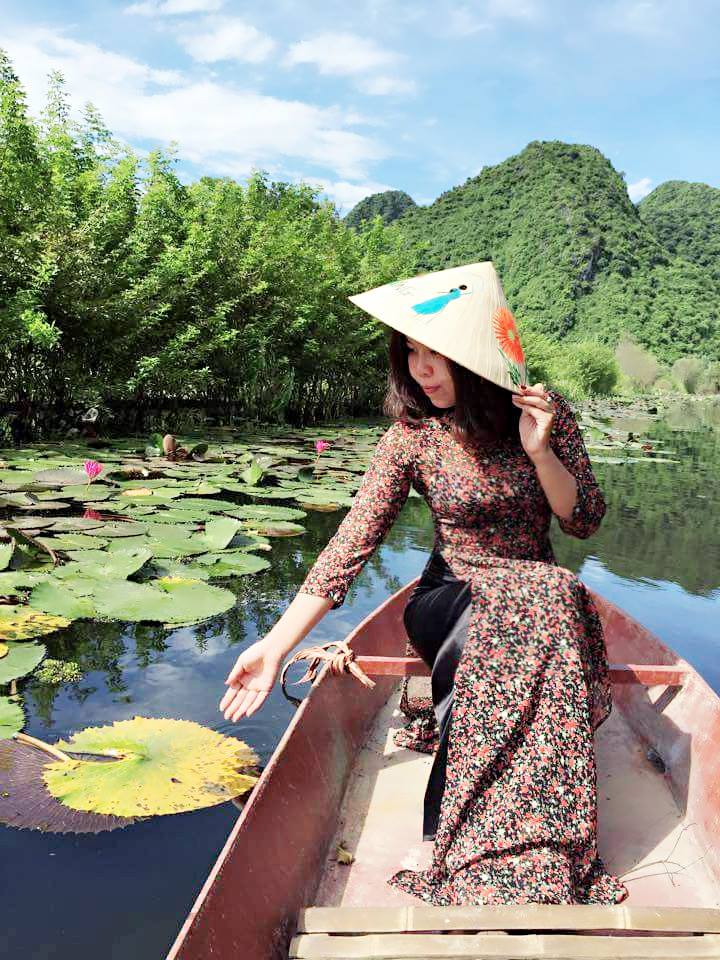 Activist Le Thu Ha
Since Mr. Nguyen's release from prison in 2011, he had been subjected to countless incidents of harassment and surveillance by police officers. He was still recovering from injuries sustained from a vicious assault by masked assailants on 6 December 2015, after he had attended a meeting to mark International Human Rights Day. He was badly beaten, robbed and thrown on the street.
Vietnam has ratified the International Covenant on Civil and Political Rights, (ICCPR), which protects the right to freedom of opinion and expression (Article 19), and the right to liberty and security of a person, which includes the right to not be subjected to arbitrary arrest and detention (Article 9).
The UN Basic Principles on the Role of Lawyers specifically affirm that lawyers are "entitled to freedom of expression, belief, association and assembly" and that, "they shall have the right to take part in public discussion of matters concerning the law, the administration of justice and the promotion and protection of human rights". The Basic Principles also set out a number of guarantees to ensure that lawyers are able to fulfill their professional roles without undue interference.
Furthermore, Vietnam's Constitution protects the right to freedom of opinion and speech (Article 25) and guarantees that no citizen may be arrested without a warrant and that the arrest and detention must be in accordance with the law (Article 20).
We therefore strongly urge the Vietnamese authorities to comply with Vietnam's human rights obligations, and drop all charges against Mr. Nguyen and Ms. Le, who have been peacefully carrying out activities to promote and protect human rights.
We further urge the international community to strongly intervene at the highest possible levels to support the expeditious release of both human rights defenders.
SIGNED:
Amnesty International – ENGLAND
Christian Solidarity Worldwide – ENGLAND
Front Line Defenders – IRELAND
CIVICUS: World Alliance for Citizen Participation – SOUTH AFRICA
Civil Rights Defenders – SWEDEN
International Service for Human Rights – SWITZERLAND
International Commission of Jurists – SWITZERLAND
Freedom House – USA
Human Rights Foundation – USA
Humanitarian China – USA
National Congress of Vietnamese Americans – USA
People In Need – CZECH REPUBLIC
Van Lang – CZECH REPUBLIC
Asian Forum for Human Rights and Development (FORUM-ASIA) – THAILAND
Foundation for Community Educational Media – THAILAND
SHANAH – BURMA
Commission for the Disappeared and Victims of Violence (KontraS) – INDONESIA
The Institute for Policy Research and Advocacy (ELSAM) – INDONESIA
Legal Aid Center for the Press (LBH Pers) – INDONESIA
ASEAN SOGIE Caucus – PHILIPPINES
Vietnamese Overseas Initiative for Conscience Empowerment (VOICE) – USA, AUSTRALIA, CANADA & EUROPE
Brotherhood for Democracy – VIETNAM
Civil Society Forum – VIETNAM
No-U Mien Trung – VIETNAM
Vietnam Path Movement – VIETNAM
Vietnamese Political & Religious Prisoners Friendship Association – VIETNAM
Civil Society and the TPP Negotiations