"Activists in Vietnam should concentrate on the people's daily needs" – Duong Gia Nguyen
– What accounts for your participation in the training program of VOICE?
I strongly believe that democracy is not just simply mechanism, structure and law. But it should be entrenched in the behavior and habit of everyone. Therefore, education is an unavoidable step in democratization.
VOICE's training program aims at building a strong, independent and vibrant civil society in Vietnam. That is the reason why I would like to contribute to this process.
– What do you think about VOICE's training program to build capacity in Vietnamese activists?
In the process of setting up a training program, VOICE has succeeded in coming up with ideas regarding necessary training courses for Vietnamese activists. However, practical issues are not yet completed. VOICE is fully aware of such shortcomings and this issue is being addressed. In the near future, my hope is that training sections would be more pragmatic, professional and comprehensive.
– What is your assessment of VOICE's current interns?
I feel that the interns in this term have great knowledge and skills. But for me, this is not the most important part. The continuous improvement in skills and knowledge each term makes me optimistic.
– What is the main message that you would like to convey to interns?
The most important lessons to show our interns is to be open-minded and to be objective. We also want to be respectful even when we have a serious argument. This is the democratic spirit that we should have since nobody is entitled to say "I've got it right".
– What is your hope regarding interns actions when they are back to Vietnam?
I have so many dreams. Firstly, I hope that they would be leaders when they return to Vietnam. They can share wonderful things with the Vietnamese activists who did not have the opportunity to travel abroad and to see the benefits of democratic societies. Secondly, I also hope that with the tools and techniques they learned in their training sessions, they would be much more efficient in their activities when they go back Vietnam. And there are many more hopes I have that cannot be recorded here.
– Can you talk about the most important issues in your Politics and Advocacy in EU course? Are there any new aspects compare to the past?
I would emphasize 3 major points:
Firstly, understanding EU member states institutions and legal systems; Secondly, mastering the aspects concerning culture and custom of European political life; And last but not the least, applying these lessons towards Vietnam.
With this session, I added 3 more topics dedicated to the three major European countries, whether they are or no longer members of the EU: The UK, Germany and France. We also learned about major events affecting European political life such as Brexit and the yellow vest protests in France.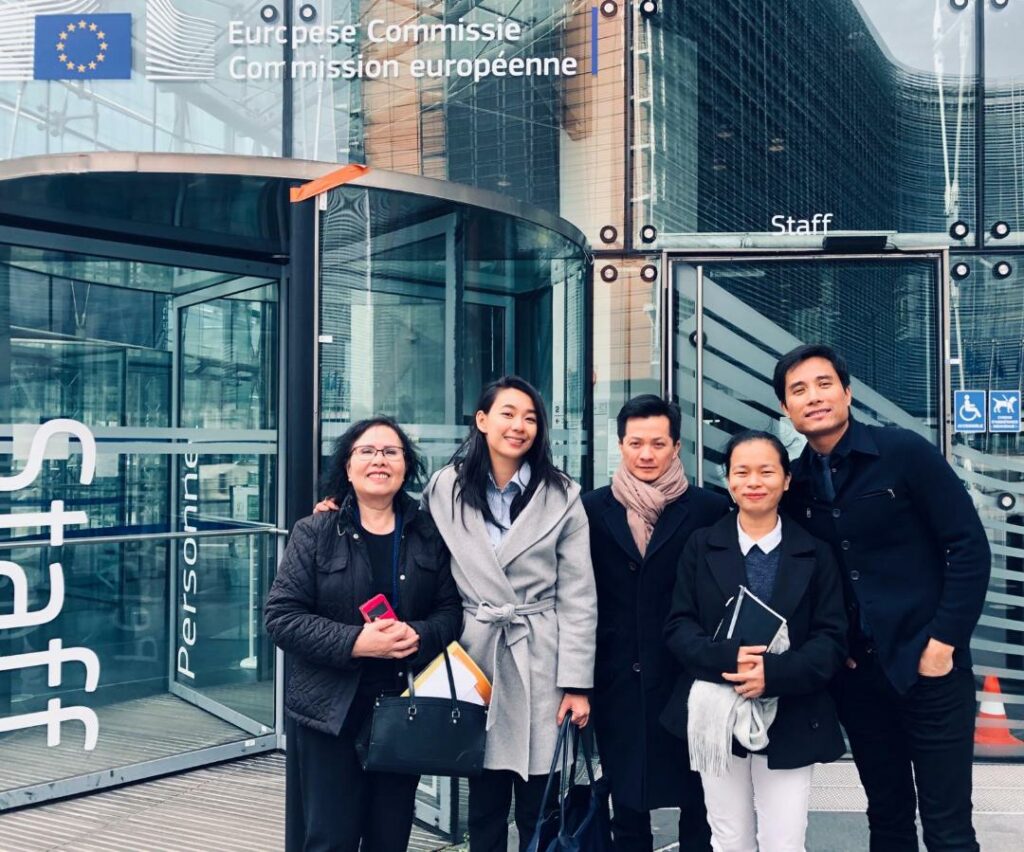 – In your opinion, how would advocacy affect the development of civil society movement in Vietnam?
Advocacy is devised to strengthen and assist a strong, independent and vibrant civil society but this is a long process with long term results. Moreover, the effect of advocacy cannot be easily measured. That's why activists should be patient and not lose focus on the mission. The ultimate goal is to build a democratic country based on a healthy civil society.
– Can you tell us about the advocacy that you have completed over the years? What achievements and difficulties have you met in the process of advocating?
I started advocating on local issues related to Vietnamese resettlement and other topics indirectly related to Vietnam. Then VOICE gave me the opportunity to advocate on national-level government. Currently, we focus on advocating EU institutions about free trade agreement and free trade unions.
– In your opinion, what should activists focus on when advocating in Vietnam? What is your advice?
To me, local activists should concentrate on the people's daily needs (environmental problem, child abuse, education and social misconducts). The activities would empower people by requiring government and authorities to meet their fair demands. It would build understanding between activists and the people, as well as strengthen links between these two groups.
– What do you think about the difficulties and opportunities of the civil society movement in the near future?
The biggest difficulty is the government. But the apathy of the Vietnamese people remains a big obstacle as well. Therefore, the movement should focus on activities aiming at building mutual understanding between activists and the people.
Over the past 20 years, the movement has experienced failures and success, and they are the lessons for the future. Moreover, the movement is increasingly gathering high potential individuals with strong will and clear awareness about the civil society that we need.
– What is your appraisal about the role of overseas Vietnamese on developing civil society?
I believe that the overseas community has a crucial role because they can bring the good things from the world back to Vietnam.
– In your opinion, how can Vietnamese and overseas Vietnamese co-operate in order to promote civil society in Vietnam?
To enhance cooperation between the two sides, we need more organizations like VOICE. We need civil society organizations that can mobilize people and financial support from outside the country, as well as mobilize the capacity and will from inside, especially among the young people.
– Would you like to share anything else?
Every hardship can be met, every burden can be overcome through the solidarity between the Vietnamese inside and outside the country. We, the Vietnamese people, need to work together with respect.